Global treasures on the Chinese stage
By Zhao Xu | China Daily | Updated: 2018-01-27 09:05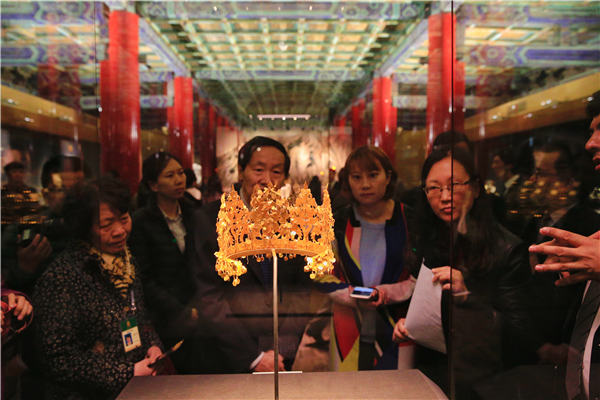 As China shows its historic artifacts to the world, other countries are returning the favor.
During the first weekend after the exhibition History of the World in 100 Objects opened in Beijing last March, the temperature inside the crowded exhibition hall was temporarily out of control.
"We had monitors placed inside the exhibition hall as well as every glass case for exhibits, so we were constantly in touch with what was happening on the ground," says Yan Zhi of the National Museum of China, where the British Museum exhibition was on display until May.
"When audiences, each of whom could be compared with a mini-heater, started flooding in on Saturday morning, we experienced a little bit of an emergency."
Later everything was put right, but if you listen to Yan, the incident was a telltale sign of the enthusiasm that could be amassed by culturally minded Chinese museum-goers.
"You felt the heat, quite literally. And it is just a typical example of an increasing number of imported exhibitions that have proven big with the Chinese audiences over the past few years."
However, some issues do exist that need to be solved before such long-distance cultural exchanges can take place, Yan says.
"Take the 100 Objects exhibition for example. Before coming to the Chinese mainland, where it was on display first at the National Museum and then at the Shanghai Museum, the show had visited Australia, Japan, the United Arab Emirates and Taiwan. That journey, over years, with each stop blessed with its own unique and drastically different climate, had caused immense stress on the protection of the exhibits. Consequently, some had to make a homebound trip en route for maintenance and were replaced by others."
Another two items that were previously featured in the exhibition but failed to come to Beijing were a piece of brocaded fabric taken by the Hungarian-British Marc Aurel Stein from Dunhuang Mogao Grottoes in northwestern China and a carved jade disc the British Museum believes dates to the reign of the Qing Dynasty emperor Qianlong, in the 18th century.
"Both cases involve sensitive issues," Yan says. "Some Chinese experts believe that the jade disk might originally have come from the Yuanmingyuan, or the Old Summer Palace, the sumptuous royal garden-cum-residence burnt to the ground by the Anglo-French Army during the Second Opium War, in 1860.