ROK skiers make DPRK training trip
China Daily | Updated: 2018-02-01 09:46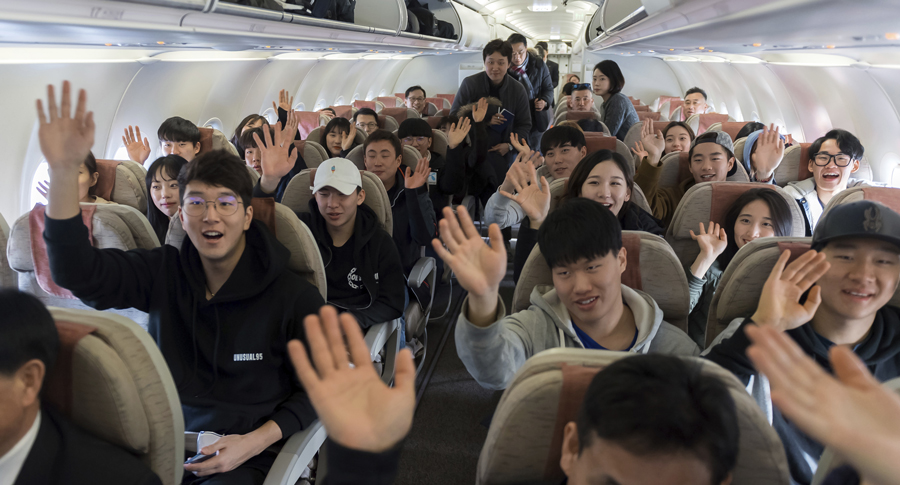 SEOUL-Several skiers from the Republic of Korea (ROK) flew to the Democratic People's Republic of Korea (DPRK) on Wednesday to train with its athletes in a conciliatory gesture the countries planned to mark the Winter Olympics.
The chartered flight carried a delegation of 45, including 20 athletes, support staff and journalists, arrived at the DPRK's Kalma Airport before the skiers head for the Masik ski resort, Seoul's Unification Ministry said on Wednesday.
The skiers are reserve members of the ROK's national team and won't be participating in the Pyeongchang Games in the ROK that start on Feb 9.
The ROK skiers will fly back on Thursday accompanied by DPRK alpine and cross-country skiers who have been invited to participate in the Olympics, the ministry said.
The ROK is preparing to host a large DPRK delegation during the Olympics, including officials, athletes, artists, journalists and a 230-member cheering group. ROK President Moon Jae-in sees the games as an opportunity to resume meaningful contact with the DPRK following an extended period of tension and diplomatic stalemate over its nuclear weapons and missiles program.
Uncertainties had surrounded Wednesday's trip, which the ROK wasn't able to confirm until less than two hours before the athletes departed from Yangyang International Airport. The ROK held discussions with the United States until the last minute to ensure the trip wouldn't violate US sanctions against the DPRK.
Washington agreed to consider the flight an exception to sanctions announced by the Trump administration in September that include banning vessels and aircraft that have visited the DPRK from visiting the US within 180 days, said Seoul's ministry spokesman Baik Tae-hyun, who didn't further elaborate on the talks.
He said the DPRK skiers who travel to the ROK on Thursday will head to the athletes' village in Gangneung, a coastal city that will host the skating, hockey and curling competitions during the Olympics.
The DPRK late on Monday had scrapped a joint cultural event, citing unspecified negative media reports in the ROK.
Other conciliatory gestures the countries have agreed to hold during the games include a joint march under a "unification" flag during the Feb 9 opening ceremony and fielding a unified team in women's ice hockey. A dozen DPRK hockey players have been training since last week with their ROK teammates led by Canadian coach Sarah Murray.
While many in the ROK have welcomed the DPRK's presence at the Olympics, others express unease and view its overture as an attempt to weaken US-led international sanctions against the North while further advancing its nuclear weapons program.
Wednesday's flight was the first direct ROK flight to the DPRK since 2015, when ROK labor union members flew to Pyongyang for a goodwill soccer match with DPRK workers, the ministry said. The Kalma Airport on the DPRK's eastern coast was the launch site for multiple midrange missile tests in 2016.
AP-AFP