Jao Tsung-i, 101, Sinology 'master', dies in Hong Kong
By Luo Weiteng and Wang Yuke in Hong Kong | Updated: 2018-02-07 08:05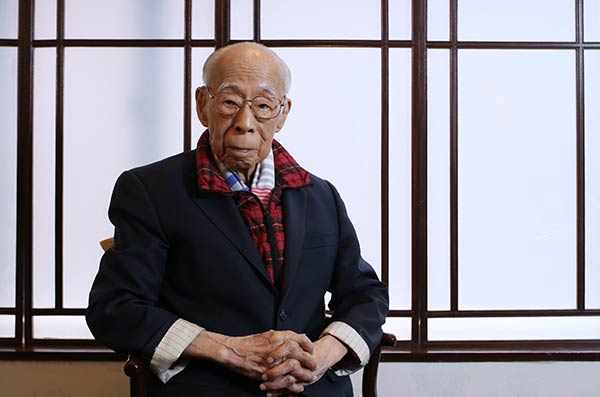 World renowned Sinologist Jao Tsung-i passed away in Hong Kong early on Tuesday. He was 101 years old. Condolences from the city's political, business and academic leaders poured in, noting his lifelong contribution to Chinese culture.
Hailed as the "pride of Hong Kong" by Premier Li Keqiang during a meeting in Beijing in 2015, Jao often was mentioned along with another "master of Chinese culture", Ji Xianlin, who died in 2009, as "Jao of the South and Ji of the North".
Jao was born in Chaozhou, Guangdong province, in 1917 and home-schooled in his childhood. He came to Hong Kong in 1949 and studied a broad range of disciplines, spanning the East and the West, the ancient and the modern, touching on 13 genres covering the entire field of Sinology, including ancient history and oracle bone inscriptions. He initiated research on the Dunhuang Manuscripts (now known as Dunhuangology) and on Chaozhou Studies.
Jao was the first Chinese person to receive an Honorary Doctor of Letters degree from the Ecole Pratique des Hautes Etudes of France in the humanities. An asteroid-numbered 10017-was named after Jao in 2011, by the International Astronomical Union as a tribute to his contributions.
Wang Zhimin, director of the Liaison Office of the Central People's Government in Hong Kong, led the city's mourning for Jao, highlighting Jao's lifelong dedication to Chinese culture, as well as his efforts to deepen the cultural ties between Hong Kong and the Chinese mainland.
Wang, together with Yang Jian, deputy director of the liaison office, visited Jao's family on Tuesday morning, to express their condolences.
Calling Jao the pride of Hong Kong and the nation, Wang said Jao had made remarkable endeavors in promoting Chinese culture and accomplishments in advancing the "one country two systems" cause.
Carrie Lam Cheng Yuet-ngor, chief executive of the Hong Kong SAR, who had a fond relationship with Jao and his family during the past decade, said she was saddened by his death.
"Professor Jao, you have been the treasure in the academic and arts sectors of Hong Kong and the world. You will be sorely missed, always," Lam said, adding that she benefited greatly from Jao's teaching.
Lui Che-woo, the property tycoon who founded the conglomerate K. Wah Group in 1955, expressed in an exclusive interview with China Daily on Tuesday morning his sorrow over Jao's death.
"Jao was an acquaintance of mine. He is a remarkable scholar in town who had devoted himself to Chinese culture and literature," Lui said.
He said he hoped there will be successors in Hong Kong to inherit Jao's ethos down the road, taking up Jao's baton to preserve the long-established Chinese literacy legacies.