Biotech billionaire buys LA Times for millions
By China Daily | China Daily | Updated: 2018-02-09 10:46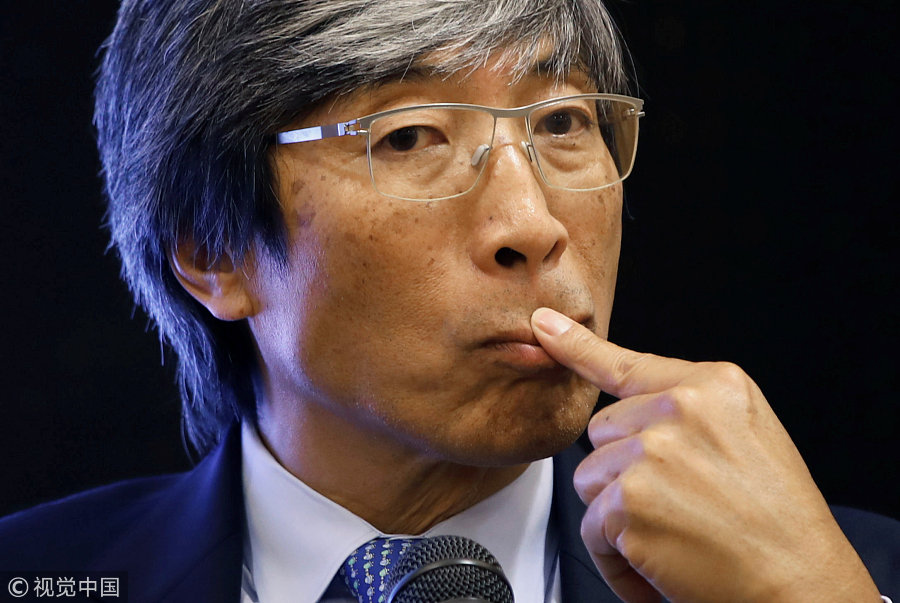 Doctor Patrick Soon-Shiong, a California biotech billionaire and a minority owner of the Los Angeles Lakers basketball team, struck a big deal on Wednesday to buy Los Angeles Times from Chicago-based Tronc Inc.
Soon-Shiong, a 65-year-old doctor turned entrepreneur who was born in South Africa to Chinese parents, is the founder and CEO of NantHealth, based in Culver City, California.
He is a major shareholder of the Times' former parent company, Tronc, which also owns the Chicago Tribune, Orlando Sentinel, South Florida Sun-Sentinel, Baltimore Sun and the New York Daily News.
As part of the $500 million deal, Soon-Shiong also will get The Times' sister newspaper, the San Diego Union-Tribune, and will assume $90 million in pension liabilities. The sale is expected to close in April.
The sale of the Times came after the newspaper has gone through three editors in six months, its publisher placed on unpaid leave during a sexual harassment investigation and an overwhelming vote by staff members to unionize the newsroom.
A former surgeon at the University of California, Los Angeles, Soon-Shiong has been described by Forbes as "America's richest doctor", and one who has said his goal is to cure cancer in his lifetime. Forbes estimates his wealth at $7.8 billion.
He was born in Port Elizabeth, South Africa, to Chinese immigrant parents who fled during the Japanese occupation during World War II. His parents were originally from Guangdong province.
Soon-Shiong received his medical degree from the University of Witwatersrand, where, in the late 1970s, he treated South Africans who had been injured during the Soweto riots.
He joined UCLA Medical School in 1983 as an assistant professor in the gastrointestinal surgery division. He later became director of UCLA's pancreas transplant program.
After developing a method for treating diabetes by transplanting insulin-producing cells into a patient's pancreas, Soon-Shiong left UCLA and founded his own medical research firm in 1991.
His wealth came from companies he founded to make blockbuster treatments for breast cancer and diabetes. He sold two of his biotech companies for nearly $9.1 billion.
One drug that his companies developed is Abraxane, which became the foundation of his fortune. It is a redesigned version of a top-selling cancer drug called Taxol.
A story posted on the Times' website on Wednesday about the new owner of the newspaper read: "Who is Patrick Soon-Shiong? An LA billionaire with big ideas - and mixed achievements". And the article said "his work has not been without controversy".
It noted that when Abraxane was approved in 2005, a group of top oncologists questioned whether the expensive drug was "just old wine in a new bottle".
Soon-Shiong now controls a network of health-company startups called Nantworks as he continues his search for a cancer cure.
Soon-Shiong has been described as a basketball fanatic who shoots hoops on a hardwood court inside his multimillion-dollar mansion in Los Angeles. He bought his minority interest in the National Basketball Association Lakers from former NBA star Magic Johnson, the team's president of basketball operations.
His involvement with Tronc started in May 2016 when he bought $70.5 million in stock, which made him the company's second-largest shareholder, and he was named vice-chairman.
He joins other billionaires who have become US newspaper owners. Amazon founder Jeff Bezos bought The Washington Post in 2013. That same year, Red Sox owner John Henry acquired The Boston Globe and, in 2014, Minnesota billionaire and Timberwolves owner Glen Taylor bought the Minneapolis Star-Tribune.
AP contributed to this story.