Cultures of China tour begins in Hong Kong
By Xing Wen | China Daily | Updated: 2018-02-12 07:20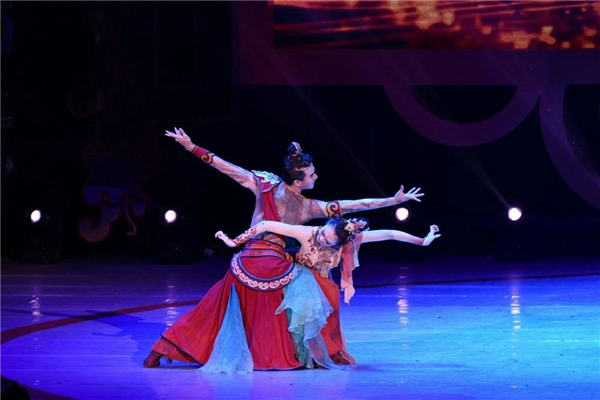 Art troupes, organized by the Overseas Chinese Affairs Office of the State Council, staged a variety of performances at the Hong Kong Coliseum over Feb 4-5.
Ahead of this year's Chinese New Year that falls on Feb 16, the shows marked the debut of the tour-Cultures of China, Festival of Spring-for 2018.
The annual event, held for the past 10 years, is a platform that promotes Chinese culture and seeks to embrace overseas Chinese on the occasion of Spring Festival, the traditional Chinese New Year holiday.
The shows staged in Hong Kong included folk dances from different ethnic groups, traditional acrobatics and pop songs.
Teachers and students from Beijing Dance Academy, who had presented seven performances out of a total 15 programs, seemed to be the main force of the shows.
Guo Lei, headmaster of the academy, says this is the first time his team is playing a leading role at the annual cultural event of the State Council, China's Cabinet.
"It's a great opportunity to carry forward our traditions. And, the multiethnic culture of the country is on display through the achievements and artworks of our academy," says Guo.
The coliseum, where around 12,000 audience members were present, hummed with joy and activity after the performances.
The tour will end in March after shows in 16 countries and regions around the world, including Thailand, Malaysia and the United States, according to Tan Tianxing, deputy-director of the State Council's Overseas Chinese Affairs Office.
This year, six art troupes will travel abroad for the shows.
Over the past decade, 69 art troupes have performed in 303 cities in the world, attracting more than 6 million in audiences, Tan says.
The tour has already become a Spring Festival gala not only for overseas Chinese but also for mainstream society in some foreign countries, which is conducive to promoting the friendship between China and other nations, he says.
Wang Baoyu, a secretary in the same office, has traveled with different troupes for the annual tour for years. This time, he is accompanying the troupes to Macao after Hong Kong.
"We have been preparing for the shows since September," says Wang.
He says they try to combine Chinese culture and local features in the shows, fully considering audience interest.
And the tour sometimes also welcomes overseas Chinese to stage performances of their own.
"Last year, some overseas Chinese provided three programs during our show in France," Wang says.
"We want to help strengthen the identity of overseas Chinese and also overcome their homesickness."