Israeli raids hit 'Iranian targets'
China Daily | Updated: 2018-02-12 16:12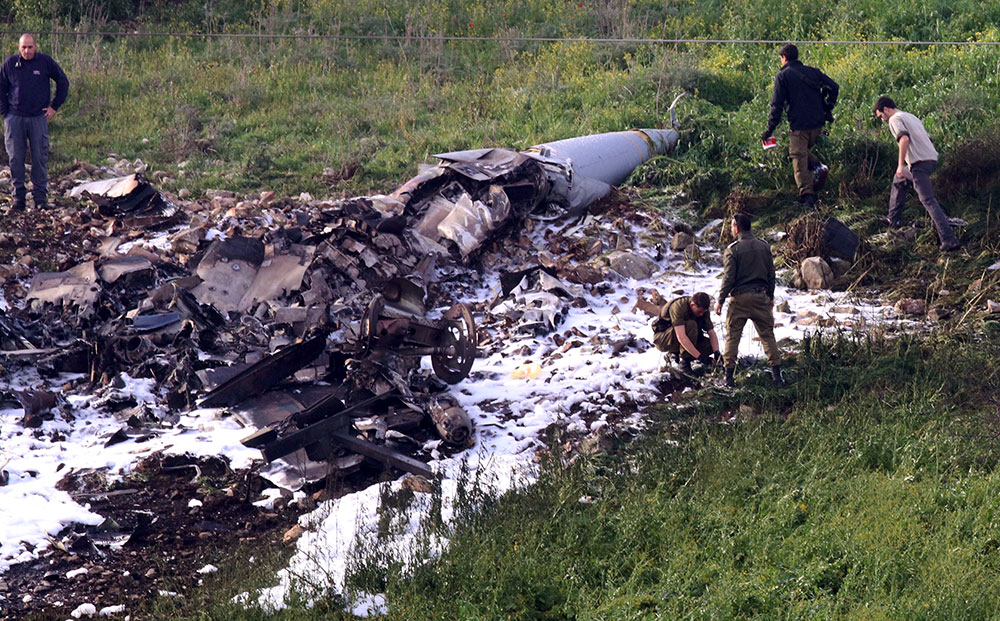 Attack comes after downing of jet in Syria; Russia calls for 'restraint'
JERUSALEM - The Israeli army launched a large-scale attack against the Syrian aerial defense system and Iranian targets in Syria after an Israeli F-16 fighter was hit by missiles from Syria and crashed on Saturday morning.
Twelve Iranian and Syrian targets were attacked, including four targets that are part of Iran's military establishment in Syria and eight Syrian targets belonging to the Fourth Syrian division near Damascus, said the IDF spokesperson, Lieutenant Colonel Jonathan Conricus, in a briefing held on Saturday afternoon.
All targets were hit and the Israeli aircraft completed their mission and returned to base safely, and during the attack between 15-20 anti-aircraft missiles were fired against Israeli aircraft, said Conricus.
Eight Israeli fighter jets attacked the Iranian and Syrian targets. There was massive anti-aircraft fire toward Israeli planes, which indicates that the Syrians decided to get involved even though the attack was against the Iranian facility on their soil, added Conricus.
"This is the most blunted and severe Iranian violation of Israeli sovereignty in the last years and that is why our response is severe as it is," said the IDF spokesman.
The Syrians and the Iranians are "playing with fire from our point of view", said Conricus. "The Syrians are playing with fire when they are allowing the Iranians to attack Israel on their soil."
This was an defensive effort triggered by an "Iranian act of aggression", and "we are willing, prepared and capable to extract a heavy price from anyone that attacks us", he said. However, he added, "we are not interested to escalate the situation".
The Iranian Foreign Ministry on Saturday denied any involvement in downing the jet, with spokesman Bahram Qasemi branding the accusations "ridiculous", adding that Iran was in Syria at the request of the Syrian government.
Russia's Foreign Ministry called for "restraint" from all parties, adding it was "unacceptable to create threats to the lives and security of Russian soldiers" in Syria.
'Severe blows'
Israel's prime minister said on Sunday his country delivered "severe blows" to Iranian and Syrian forces and vowed to take further action against its adversaries following the most serious Israeli engagement in Syria since the war there erupted almost seven years ago.
"Yesterday we dealt severe blows to the Iranian and Syrian forces," Benjamin Netanyahu said. "We made it unequivocally clear to everyone that our rules of action have not changed one bit. We will continue to strike at every attempt to strike at us. This has been our policy and it will remain our policy."
Israel has tried to stay on the sidelines since civil war broke out in neighboring Syria in 2011, though it has periodically carried out airstrikes against suspected weapons shipments believed to be headed for Lebanese Hezbollah, the Iranian and Syrian-allied militant group.
But as the Syrian war winds down, Israeli officials have voiced increasing alarm that Iran and its allies are establishing a permanent presence in Syria that could turn its aim toward Israel.
Israeli leaders said the airstrikes sent a clear message to Iran.
"We do not just talk, we act," said Cabinet Minister Yoav Galant, a former Israeli deputy chief of staff and member of Netanyahu's Security Cabinet.
"I think that also the Syrians now understand well that the fact that they are hosting the Iranians on Syrian soil harms them," he told The Associated Press.
Xinhua - Afp - Ap