Unusual river god portrayal in Monkey King sequel
By Xu Fan | chinadaily.com.cn | Updated: 2018-02-12 16:18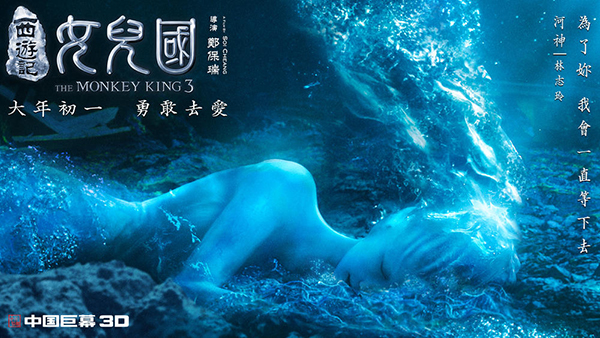 In Chinese mythology, the river god is usually depicted as a dragon or a goddess. But the upcoming fantasy epic The Monkey King 3 features an unlikely water ruler.
The creature, with short white hair and blue skin, is played by Taiwan supermodel-actress Lin Chi-ling.
The movie, which was made with budget up to 550 million yuan ($87.3 million), has a lot of special effects.
American Shaun Smith, who worked on Hollywood hits like Chronicles of Narnia and I'm a Legend, worked on Lin's appearance.
The third installment of The Monkey franchise, adapted from the 16th century novel Journey to the West, will hit Chinese mainland theaters on Feb 16, the first day of the Year of the Dog.
In the film, Aaron Kwok, Feng Shaofeng, Xiao Shenyang and Him Law are joined by actress Zhao Liying.