Governor calls for cooperation on 'common threat' of climate change
By LIA ZHU in San Francisco | chinadaily.com.cn | Updated: 2018-02-12 23:24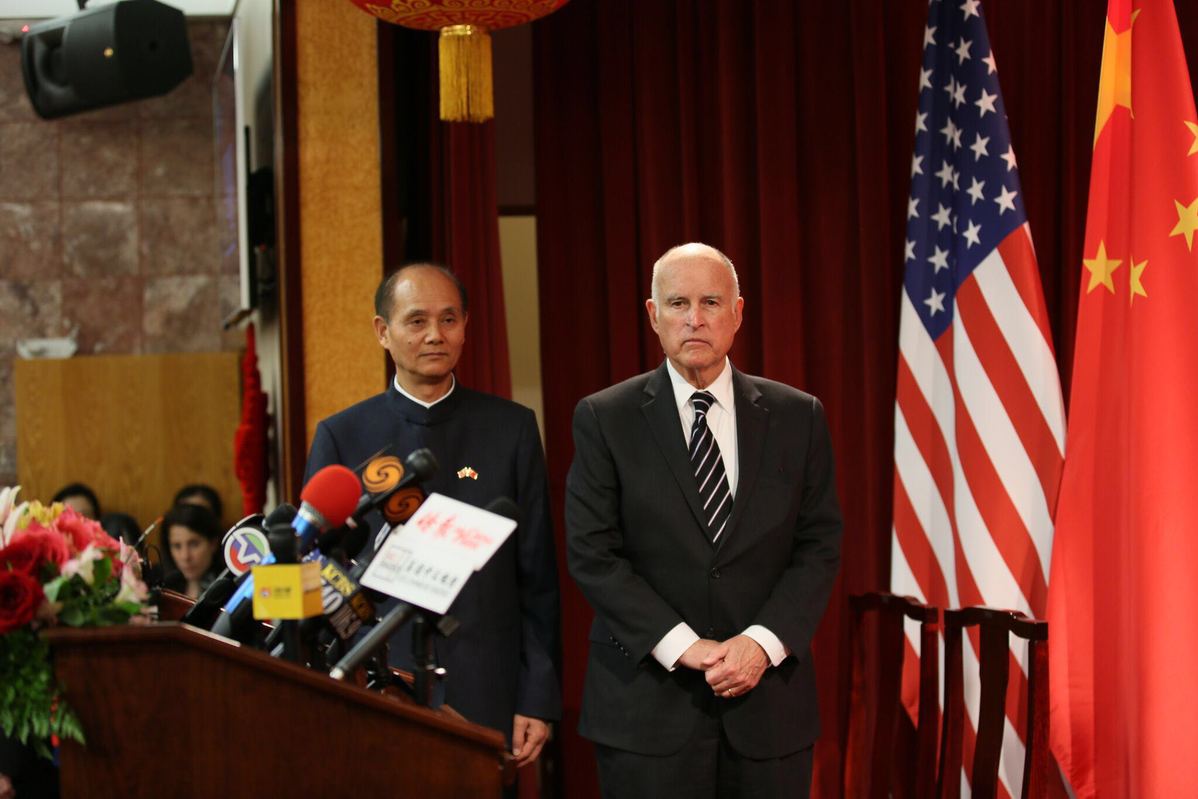 California and China can collaborate on climate change and other issues of common interest despite differences, Governor Jerry Brown said at a celebration in San Francisco.
Hundreds gathered on Feb 9 at the Chinese Consulate General in San Francisco to celebrate the coming Chinese New Year, which starts on Feb 16 this year. It's the third time that Brown has attended the Lunar New Year reception at the Chinese consulate.
"Spring Festival is a time for rebirth after the cold winter … a time of new ideas, new relationships and ways to cooperate. I look forward to a new life between California and China, and between America and China as well," he said at the reception hosted by Consul General Luo Linquan.
Brown told the guests that climate change is a real challenge, and China is making great strides in pollution regulation, controlling carbon emissions and deploying clean technologies.
"We have a common threat. We have common technologies, and we need to do common research. That's exactly what I think we can do," he said.
During his trip to China last June, he met with President Xi Jinping, and they talked about climate change, the Belt and Road Initiative and other topics.
"I think there's a good opportunity there. California has signed many memoranda of understanding with not only ministries of the national government of China, but also with provincial governments," he told the guests.
"We are building our times together. That's very important, because in the world where we are living now, there is great opportunity but also great danger, great cooperation but great competition," he said.
He also stressed that the balance between cooperation and competition needs to be carefully managed, and the solution is to find mutual benefit and win-win opportunities.
There is a lot of history and roots that tie California with China; however, the history of Californians treating Chinese has not always been positive, Brown pointed out.
"Throughout the history, there are always bright spots and dark spots," he remarked. "Misunderstanding and oppression can take place anywhere and anytime. So we have to retain a certain degree of humility and alertness to make sure we emphasize cooperation."
The world is a diverse place, and California is a diverse state with more than 100 languages spoken, Brown said.
"The state is growing tremendously, which has benefited from Chinese immigration from even before the Gold Rush," he said. "My great grandfather came here in 1852, but there were already Chinese people before he got here."
Brown also told the guests that he shared the same idea with President Xi on national dreams.
"We all have dreams; the great challenge is to have our own national dream but make it fit into the international dream," he said. "As President Xi said, we want a world where everyone can enjoy prosperity and everyone can enjoy their own cultural ethnic perspective on what the world is."