Budding Chinese florists bloom in London
By Bo Leung in London | chinadaily.com.cn | Updated: 2018-02-13 01:48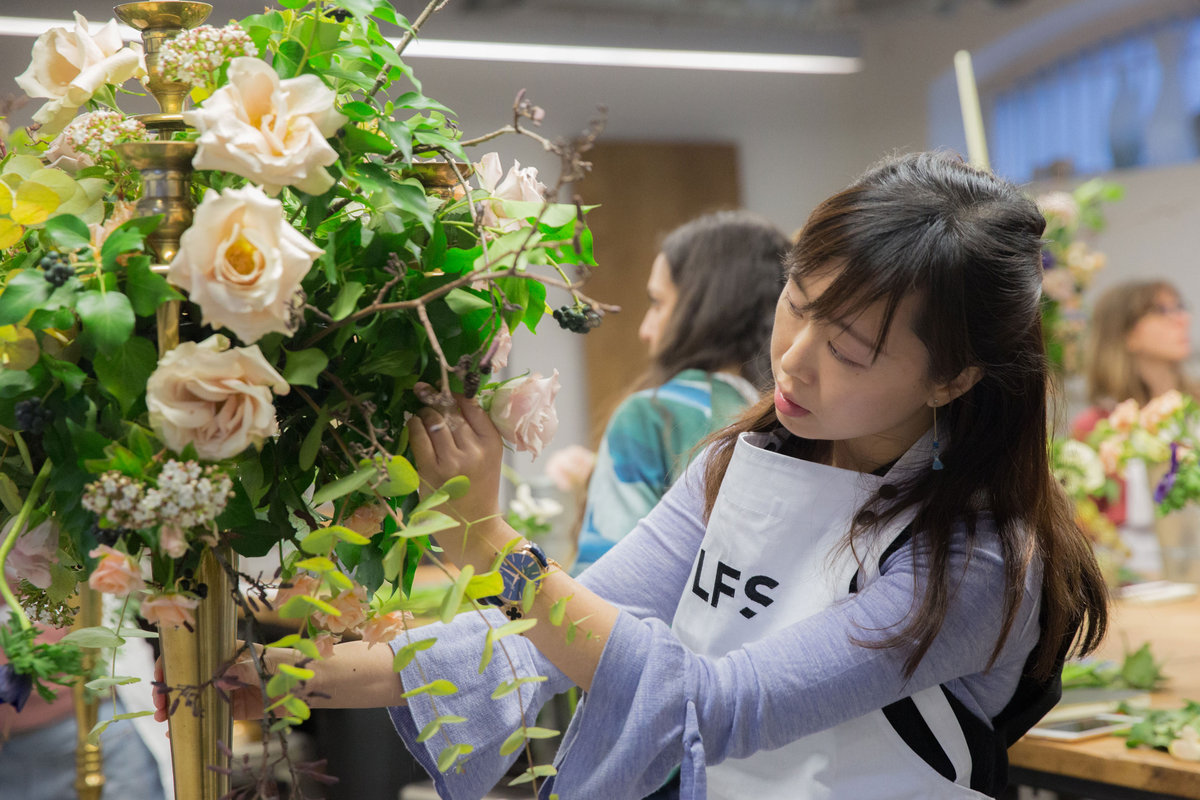 London's flower-arranging schools are attracting students from Hong Kong and the Chinese mainland.
One such academy, which has seen a rise in the number of Chinese students taking its courses, is London Flower School, which opened in May in London's inner city district of King's Cross.
"Floristry isn't a new thing, but the flower world is changing," said Wagner Kreusch, managing direction and co-founder of the school. "A lot of people, from the fashion industry to architecture, are coming to work with flowers. It's not just about a lovely arrangement anymore, it's connected to fashion and creativity."
Kreusch worked as a visiting tutor at Cohim Flower School in Beijing before setting up the London Flower School along with former school teacher Helen Dyson, who is the school's chief executive.
Kreusch said floristry has become more popular in China during the past five years.
"While teaching in China, I found that Chinese students are so passionate and vibrant," he said. "People there are not afraid of experimenting, which I find very interesting. They are eager to learn and ask a lot of questions."
Dyson agreed, adding: "What you get in Beijing is enthusiasm. It encourages you and lifts you and makes you want to do more for the students."
London Flower School offers four-week career courses, two-week courses, and one-day classes and encourages creativity and individual styles and does not require students to follow an in-house blueprint.
Teaching includes advice on arranging wedding table flowers, building bouquets, and even taking a good photo, so entrepreneurs can promote their businesses online through social media.
"There's a new generation of florists who are reinventing the industry and taking references from Asia and Japanese Ikebana," Kreush said.
Wendy Yip is an interior designer from Hong Kong. Before she signed up for classes at the school she said she had a passion for flowers but didn't know how to pursue her interest. She found out about the school online.
"I think Europe is just a perfect place for floristry," Yip said. "I did a two-week course and that is perfect for me to discover the flowers and perhaps I can incorporate it into my job as a designer."
Dyson said: "In China, there is now more disposable income and the next generation wants jobs different to their parents, it's a whole new lifestyle they're after."
The attraction of studying in London coupled with the presence of big names from the industry in the UK, such as florists Constance Spry and McQueens, have contributed to the growth of interest in China.
"London has always been a hub for creativity," Kreusch said. "London just attracts people naturally, when you think about design and fashion, you think about London, and flowers are no different."