Cool choir
By Chen Jie | China Daily | Updated: 2018-02-13 07:45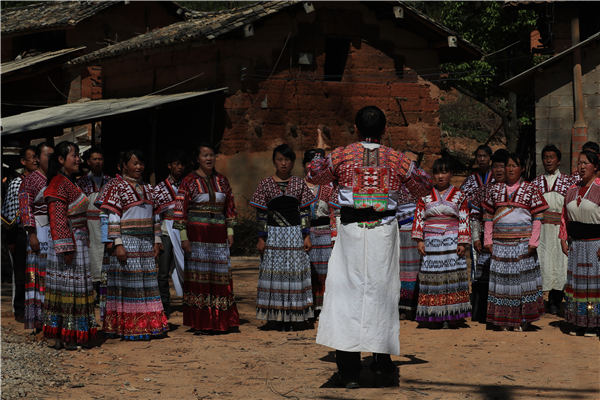 Miao musicians from Yunnan province will perform with the New York Philharmonic during Spring Festival.
Zhang Molyu was driving home on Sunday morning with purchases for Spring Festival that falls later this week.
In Xiaoshuijing, Fumin county, Southwest China's Yunnan province, his fellow villagers, most from the Miao ethnic community, were also busy with preparations for the Chinese New Year.
Zhang Qiongxian, his neighbor, was cleaning and decorating her house over the weekend.
This is a special time for both Zhangs as they will be spending a part of Spring Festival away from home for the first time.
On Feb 20, they will join the prestigious New York Philharmonic to perform at the Lincoln Center for the Performing Arts at a special concert to celebrate the traditional New Year.
"It will be our first performance outside China. So I am very excited but feel the pressure as well," Zhang Molyu, 34, the lead singer of the Xiaoshuijing Farmers' Choir, tells China Daily by phone.
"My grandma said we must sing well, because we are representing the Miao people and we are also representing China."
Zhang Molyu was sent to learn singing in church at the age of 14, because his parents wanted him to learn more after school.
"Nobody from our village has been out of China. I feel so lucky and appreciate the opportunity," said Zhang Qiongxian, 31.
Fumin county lies in the mountains 32 kilometers north of Kunming, the capital of Yunnan. British missionary Samuel Pollard (1864-1915) arrived there to promote Christianity. He found the local Miao people's style of group singing in dialogues a natural fit for a choir. He translated some hymns in English into the Miao language or Mandarin and taught the villagers to sing.
The tradition has been passed down for generations. Now about 80 percent of the 500 or so residents of the village follow Christianity.
Long Guangyuan, 48, conductor of the choir, says young people about 14 or 15 years old have started to learn choir singing. They practice every Monday, Tuesday, Thursday and Friday in the evenings and sing at the local church every weekend.