Police officer wins praise for generosity
By Tian Xuefei and Zhou Huiying in Harbin | chinadaily.com.cn | Updated: 2018-02-13 15:41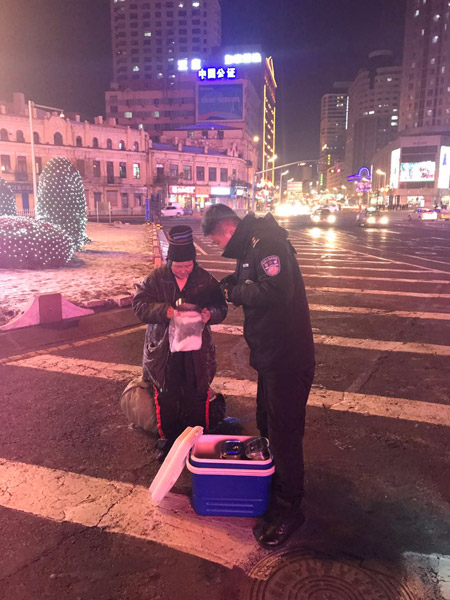 A recent photo has seen high praise on the internet.
In the picture, a SWAT police officer is passing his boxed supper to an old woman on the street in the extremely cold winter.
Two months ago, Wang Jingchong, a police officer from the Harbin Public Security Bureau, noticed a female junkman shivering with cold when he was ready for dinner in the police car.
"It was extremely cold and it was not my first time to see her," Wang said. "She looked pitiful, so I got out of the car and sent my dinner to her."
"After she ate the food, I told her I would be on duty every three days," he said. "I asked her to come here to get dinner from me."
What he did influenced his colleagues and they began to bring food from home for the junkman.
"It is not particularly troublesome for us," said Yue Yifeng, Wang's colleague. "We just hope we can provide some help to those who are really in need."