Merkel defends coalition deal against party criticism
China Daily | Updated: 2018-02-13 16:32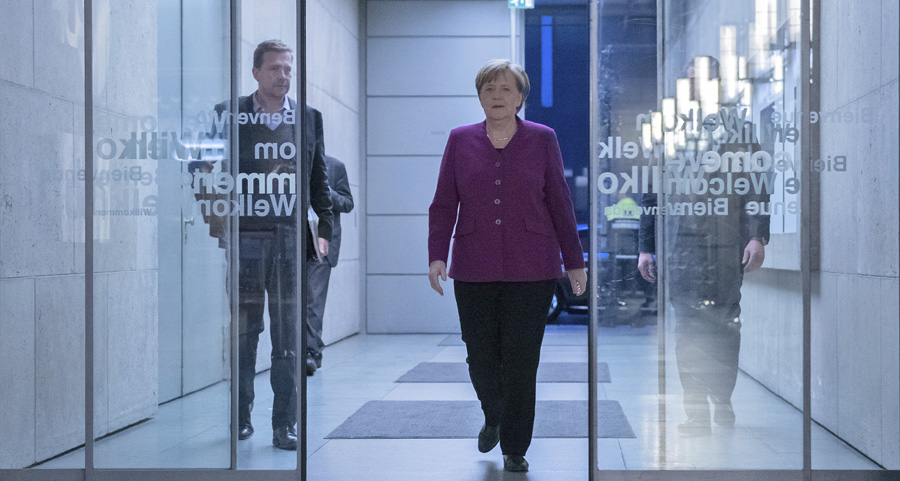 BERLIN - German Chancellor Angela Merkel pushed back on Sunday against critics within her Christian Democratic Union party of the governing coalition deal reached with Germany's main center-left party.
Merkel's conservative bloc secured an agreement to form a new coalition government with the Social Democrats on Wednesday, ending months of political gridlock.
The chancellor acknowledged in a Sunday interview with ZDF public television that it "was painful" to hand the powerful finance ministry to the Social Democrats.
"We sure did pay a price for a stable government," Merkel said.
But she added that it would have been "irresponsible" to have allowed the negotiations on a coalition to collapse.
The deal to end Germany's four-month, post-election political impasse would see Chancellor Angela Merkel's conservative party and its Bavaria-only sister party, the Christian Social Union, continue their "grand coalition" of the last four years with the center-left Social Democratic Party.
The last major hurdle is winning approval from the Social Democrats' skeptical members, who will vote on the agreement.
The Social Democrats are widely viewed to have secured a good deal in the coalition negotiations, emerging with control of the finance ministry, the foreign and labor ministries and three other ministries it already led.
Several prominent members of Merkel's party have criticized the chancellor in recent days for handing too many ministries to the Social Democrats.
Jens Spahn, a leading CDU party board member, told Austria's Presse am Sonntag newspaper that the loss of the finance ministry was "was a tough blow".
Others called for a renewal of the Christian Democrat leadership, a barely disguised push for Merkel's replacement.
The governor of Schleswig-Holstein state, Daniel Guenther, said earlier in daily Die Welt that "we need new faces" in the Cabinet.
However, Merkel, who has led Germany since 2005, said she plans to run the country as chancellor for the full four-year term.
"These four years are what I promised," she said. "I belong to those people who keep their promises."
Merkel also said she wanted a younger generation to fill ministerial posts in the coalition.
"And now we need to show that we can start with a new team," she said. "We have six ministerial posts to fill and from my point of view we need to ensure that not only the over-60s are considered but also younger people."
Ap - Reuters