Biological parents may hold hope for girl with rare disease
By MA ZHENHUAN | China Daily | Updated: 2018-02-14 07:12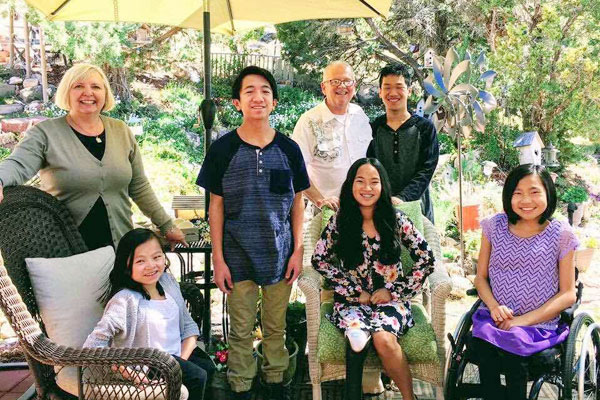 An international search for a DNA match to the biological parents of an adopted child has ignited the caring hearts of thousands of people in China and the United States, especially at a time of traditional family reunions during Spring Festival.
The parents of Meisyn Ellison, who was born in China as Jiang Lirou and is now 13 and living in Cedar City, Utah, are urgently calling for help in Lishui, Zhejiang province, where the girl was born.
Meisyn was born on Jan 5 in 2006, and was found abandoned at the doorway of the Lishui public security bureau. She was sent to the local Lishui Children's Home.
"She came together with four bags of milk powder, 520 yuan ($80) in cash, a paper note with birth information, and a change of clothes," Lou Yajia, vice-president of the Lishui Children's Home, recalled on Tuesday. She was in charge of receiving Meisyn back then.
Through a health exam, the girl was found to have been born with congenitally dislocated hips and is unable to walk.
"She was given a surname of 'Jiang', meaning Zhejiang, followed by 'li', the first Chinese character of Lishui, the city where she was born. We hoped this will help the girl remember where she came from when she grew up," Lou said.
At the age of 6, Meisyn was adopted by her parents in the US and traveled there. She was later diagnosed with spinal muscular atrophy, a rare genetic condition. Due to her condition, Meisyn has never been able to walk and even has a difficult time sitting up on her own.
SMA affects nerve cells in the brain stem and spinal cord that control muscle activity. As the nerves are disrupted, muscles weaken, which can impair any physical activity-speaking, walking, breathing, swallowing, smiling, anything can be impaired. There is no cure, but new medicines are being developed and treatment of symptoms and therapy often is used.
Despite her disabilities, Meisyn Ellison likes creating art and reading books on different subjects, and she has been an excellent student who scored high in school and is toward the top of her class.
She is a kind, helpful and obedient girl who has received awards at school for her high marks. She likes adventures and is eager to try new things, like skiing and going fast on boats and in cars.
She has received some professional ski training and dreams of becoming an Olympic champion at the Paralympic Games one day.
However, Meisyn also lives her life in a wheelchair. In recent weeks, it has become clear that her condition is worsening and her nerves are dying.
Her form of the disease is so rare that doctors in the US need to compare her full genetic screening with those of her biological parents to try to determine why her nerves are dying.
Meisyn's adoptive parents in the US are eager for and have agreed to the genetic testing, but finding her biological parents in China is imperative, they said. That's why they contacted the Lishui Children's Home for help.
"If her birth parents can be found, we would like to bring her back to China to respectfully meet them face-to-face and show our deep thanks for giving her life and helping her," Stefani Ellison, the girl's mother, wrote in a WeChat message to Lou a month ago.
Lou said the children's home is organizing volunteers to check all birth information for Jan 5, 2006, the day Meisyn was born, among all hospitals in Lishui.
She said they also are trying to check the medical records from local hospitals to determine if any child with similar symptoms was admitted between January and September 2006.
Anyone with information about Meisyn's birth family is encouraged to contact China Daily at mazhenhuan@chinadaily.com.cn.