Budding bands
By Chen Nan | China Daily | Updated: 2018-02-14 07:30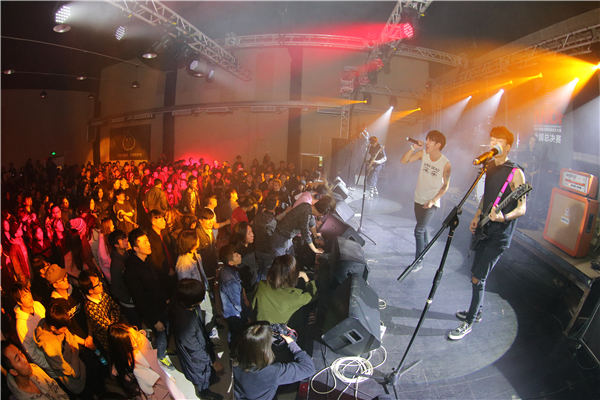 Young Chinese musicians are finding platforms to perform together.
For more than six hours, the grounds of the Beijing Midi Music School were filled with guitars riffing and drums rumbling.
It was no ordinary day in class - the musicians were vying for top honors at the Nov 4 finals of the annual Midi School Bands Contest.
In the evening, Beijing-based indie band Gentle Grape was crowned champion.
"It was awesome and I cried out at that moment," recalls its lead vocalist Li Xuezhen.
The 23-year-old, who is pursuing his master's degree in mineral engineering at the China University of Mining and Technology in Beijing, says the band celebrated with a barbecue and beers.
Gentle Grape stood out among the 12 finalists. Its performances during the contest attracted more than 1,000 viewers on site and more than 850,000 viewers online.
Launched in 2011 by the school, the contest caters to young Chinese bands, with each group required to have at least one member who is a college student.
According to Yin Long, CEO of Beijing Midi Music Media, a new branch company under the school aimed at promoting young Chinese bands, auditions started in May 2017. They attracted more than 300 bands from 500 colleges across China, with more than 770 original songs submitted online.
"The bands are very young and dynamic. It's exciting to find out that they don't just perform rock but also other music types, such as electronic dance, blues and punk," says Yin, adding that the number of bands applying to the contest grows every year because of the school's reputation and its popular Midi Music Festival. The champions of the contest also get the opportunity to perform on the main stage of the festival.
The company will launch music festivals at Chinese colleges this year and roll out plans to support bands on the campuses, says Yin.
Growing talent
The Beijing Midi Music School, founded in 1993, is one of the first contemporary music schools in China. It has produced many of the country's rock stars, including the bands Miserable Faith and Escape Plan. In 2000, school president Zhang Fan launched the first Midi Music Festival in Beijing, where it became the first outdoor music festival of its kind in the country. The festival has since expanded into one of China's largest outdoor music events.
Related Stories