Festival taking bloom off Valentine flower sales
By YANG WANLI/LI YINGQING | China Daily | Updated: 2018-02-14 09:07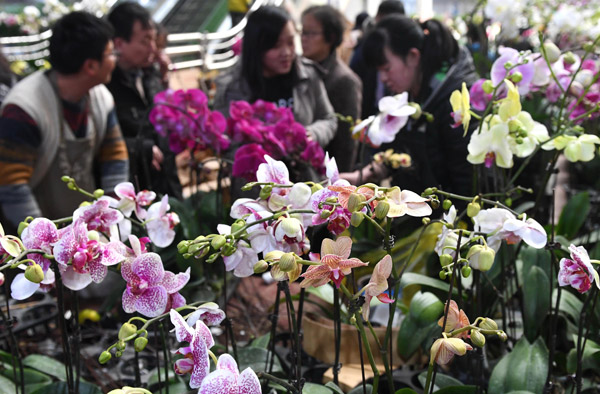 The approach of Valentine's Day has witnessed a decline of fresh flower sales, which traders attributed to the weather and its proximity this year to the Spring Festival.
Lu Yang, a fresh flower trader, said most flowers are bought in big cities, which many people are leaving to head home for the festival.
"Orders for Valentine's Day have dropped dramatically," Lu said.
The most important festival to Chinese, Spring Festival usually falls in January or early February. This year, Spring Festival Eve falls on Thursday, one day after Valentine's Day.
Lu's company in Kunming provides fresh flowers to dozens of flower stores in Hefei, Anhui province. Orders are usually fixed one week before Valentine's Day.
She said this year's order volume is only half of last year's.
At Kunming International Flora Auction Trade Center, the country's only and Asia's second-largest flower auction center, hundreds of purchasers including Lu usually face fierce competition for flowers.
Unlike the full auction center last year, Lu said this year's pre-Valentine's Day auction saw many empty seats.
But the clash of the two holidays hasn't influenced online traders much.
Flower seller Xiao Yong, most of whose clients are online flower traders in North China, said the orders for Valentine's Day have remained stable compared to previous years.
Prices, however, have soared dramatically.
According to Zhang Li, manager of the auction center, the average price of roses reached 2.6 yuan (41 cents) each during the week before Feb 14, nearly 60 to 70 percent higher than the same period last year.
A top quality rose named "Maria" was bid for at 12.35 yuan on Monday, a record high in the past seven days.
As China's largest flower production area, Yunnan experienced a cold wave in December.
"It was a crucial time for flowers to grow the buds but the cold wave cut production by nearly 30 percent," Zhang said.
About 80 percent of the center's sales are outside of Yunnan. Overseas exports make up 15 percent, mainly to Japan, Australia, Thailand and Russia.
Xu Qianfei, a seller targeting markets in Thailand, Singapore and Hong Kong, said the orders in those regions are not influenced by the overlapping two holidays.
In Flower World, the largest individual flower trade market in Kunming, more than 6.5 billion flowers were traded last year, an increase of nearly 8 percent over 2016.
"We've seen more individual purchasers in recent years, thanks to people's increasing incomes. More people spend money on fresh flowers for their home. Also, many are interested in flower arranging," said Song Rong, an official with the market's publicity department.