Roots run deep for children welcomed into US families
By ZHAO HUANXIN and DONG LESHUO in Washington | China Daily | Updated: 2018-02-14 09:17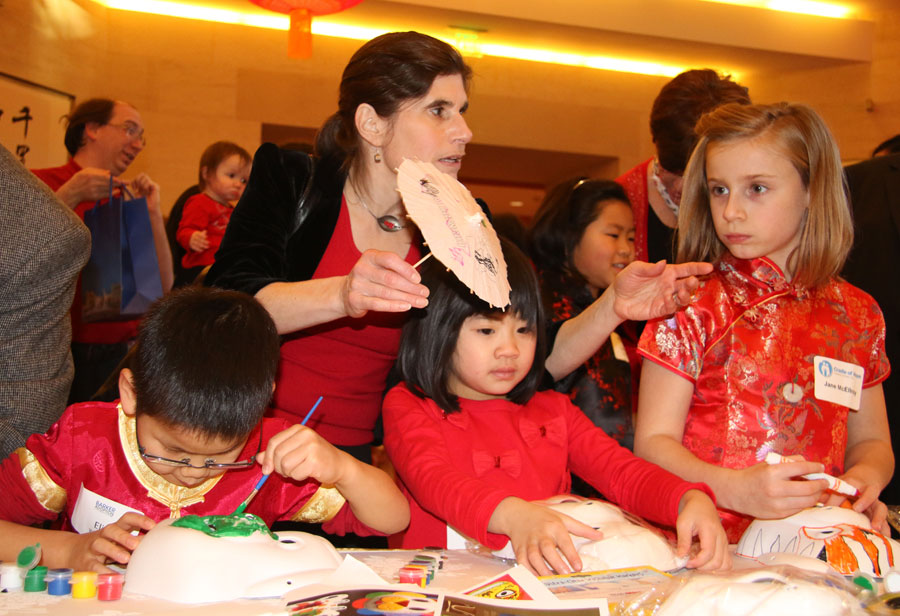 For Mark Willcher, a resident from the US state of Maryland, having a son from China means a lot of happiness and also having to learn a lot-culture, language and traditions that are way different from the United States.
"We adopted Eli two and a half years ago, and we want him to know that he has both roots in China and roots here in the United States, and we have enrolled in a Chinese language program," Willcher told China Daily on Monday night at a gathering to mark the Chinese Lunar New Year.
The Willchers were one of the 70 US families invited to the Chinese Embassy to attend a reception that featured Chinese acrobatic, drama and martial art shows. Eli also painted a facial mask and got a fur friend-a toy panda-as a gift.
"I'm a first-time father at 65, and it's been wonderful having him, just a lot of happiness," Willcher said.
Minister of the Chinese Embassy Li Kexin expressed thanks to the adoptive parents.
"Despite being thousands of miles away from their birth place, you have created a loving and caring home for them here in America," he said.
Between 1999 and 2016, the number of children adopted from China in the US was 78,257, and in 2016, Chinese adoptees made up 42 percent of all children adopted internationally by US residents, according to research by Pew last October.
Li said Chinese and US citizens have maintained a great friendship over the past decades and the adopted children, while having good reason to be proud of their loving family and the US, will have a "unique opportunity to help the China-US friendship prosper in the future".
Steve Inskeep, host of the National Public Radio's Morning Edition, said he was proud that his family includes a daughter who was adopted from China.
"I'm grateful that the immigrant in my family comes from China and connects our family with the great stories in China," he said.
The Hurler couple, who live in New York with their three children adopted from China, also participated in the New Year celebration at the embassy.
The first adoptee was Logan from Nanjing, capital of Jiangsu province, when he was 17 months old. Logan is now almost 10. Then the couple was thinking about adopting one more child from China. But they ended up adopting two, who are one month apart, from Hefei, Anhui province.
"When we saw their pictures, my husband and I felt like we couldn't break them apart," said Kathleen Hurler. The parents have not taken their three children back to China since they joined the family. They said they hope to do so when they are older and they "really want to remember it".
"We are trying to figure out what is the best way for them to learn the Chinese language. We would love for them to do that," said Hurler.