Chinese breeds vie to become top dog
China Daily | Updated: 2018-02-14 09:29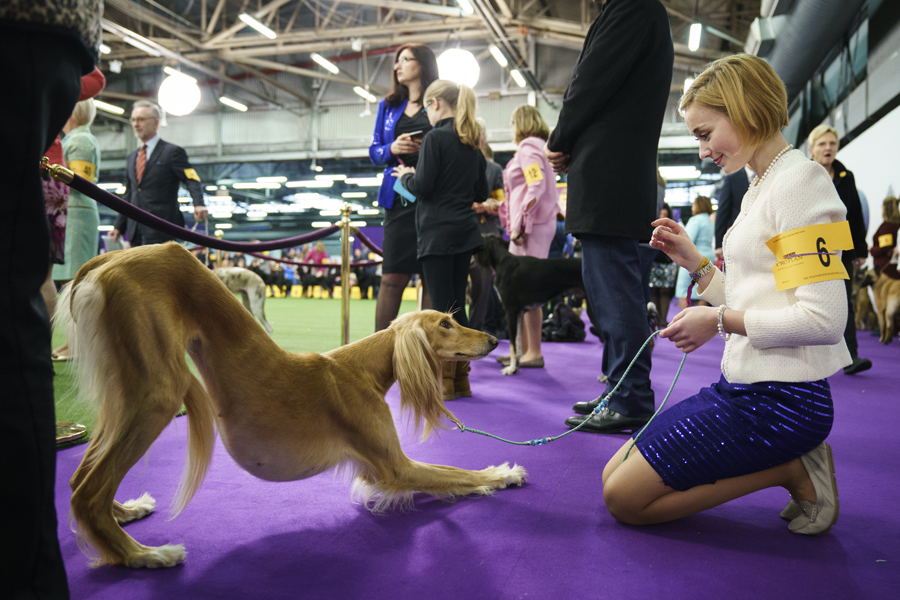 This is the one time of year when man's best friends take over New York City.
The Westminster Kennel Club dog show kicked off on Monday, and for the Chinese this year is even more special because it's on the verge of the start of the Year of Dog.
Dogs traveling all the way from China are competing with the more than 3,200 other dogs from all 50 US states and 16 countries. Breeds of Chinese origin like Chinese Cresteds, Pugs, Shih Tzus, Pekingese and Chow Chow are showcased by the Westminster Kennel Club during the two-day event, which is in its 142nd year.
And by happy coincidence, this year's Best in Show winner will hold the title through the Chinese zodiac's Year of the Dog.
"It's in recognition of the Chinese New Year, which is on February 16, right after our dog show," said Westminster spokeswoman Gail Miller Bisher at a news conference two days before the opening. "Of course it's the Year of the Dog in 2018, but at Westminster every year is the year of the dog."
"It's my second year attending the show, we flew 18 hours from China for today," said Cui Nian, who was grooming his toy poodle Lilian after competing.
Although Lilian didn't make it to the next round, Cui was impressed by the other participants and said they had a good time.
"The result doesn't matter a lot," Cui said, "but it's important for me to participate and learn from other breeders and groomers. We'll be back next year for sure."
Cui, whose English name is Aico, is a professional breeder and groomer in China. He is the founder of Aico's Pet Grooming School, where he has about 20 dogs.
Other Chinese breeders who could not make it to the show themselves paid thousands to send their dogs to the big show.
Viva Zhen Lou, a breeder from Lanzhou, flew her dog "Kingsa" - a cream-colored French bulldog - to the US and hired Valerie Nunes-Atkinson, a professional dog handler from California, to take care of him through the show.
"(The price of) a puppy like this starts at about $8,000, but that's just for a regular... maybe not a show dog, certainly not a champion, and you take from there. They can go to six figures," said Nunes-Atkinson.
"The way we bring them along is when they are babies, we start them very young," Nunes-Atkinson said, adding that it was expensive to train and raise a dog for show. "For Kingsa, we only feed him salmon, that's what he eats back home."
Kingsa, who's going back to China after the show, has won several awards in the US over the past year in shows such as the AKC show hosted by Apple Valley Kennel Club in April and the national specialty hosted by the French bulldog Club of America.
After judges select the best of each breed out of thousands of dogs, top dogs go to the main event at Madison Square Garden on Feb 12 and 13 where they are narrowed down to the best of each group - hound, toy, nonsporting, herding, sporting, working and terrier. The seven winners then go on to compete for the coveted Best In Show title.