Digital tech reshaping ad industry
By Ren Xiaojin | China Daily | Updated: 2018-02-14 09:41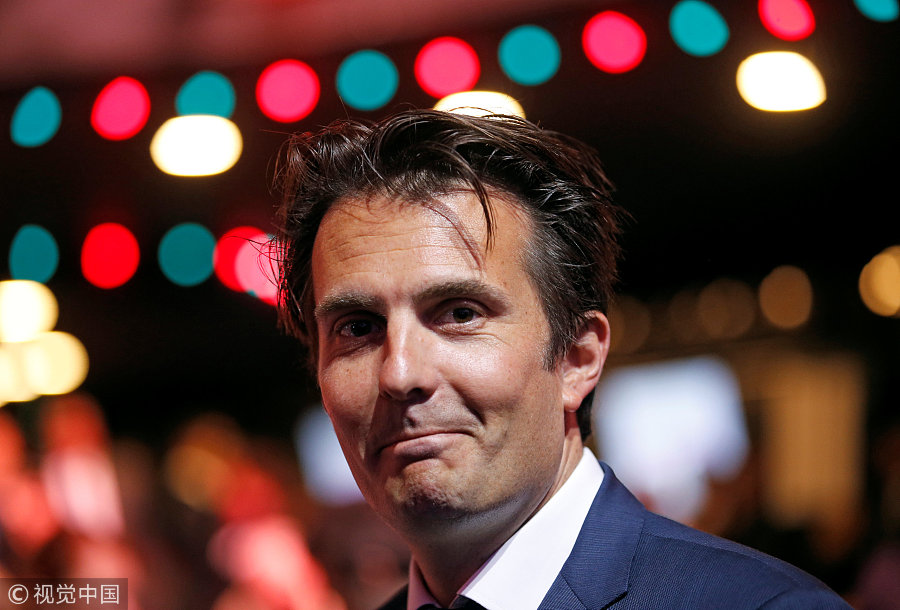 Head of Paris-based advertising firm Havas Group vows to invest more in China, especially in talents
Yannick Bollore, global chairman and CEO of the Paris-based advertising company Havas Group, believes that digital technology will shape how modern people communicate and bring big opportunity for Havas in China.
Bollore was part of the delegation that accompanied French President Emmanuel Macron on the latter's state visit to China in January. China's fast-changing economic landscape, the evolving digital technology and the Belt and Road Initiative are inspiring not only Havas Group, but other European companies that are eyeing the Chinese market, he said.
To provide better marketing and advertising solutions to its clients that want to tap into China, Havas Group has been scouting for partnerships since 2016.
Last year, it partnered Guangdong-based Guangdong Advertising Group Co, or GIMC, for a joint venture, Havas GIMC Advertising Co Ltd, with an initial investment of 5 million euros ($6.19 million).
"We even received the blessings from President Macron himself. It is a sign of big success ahead," said Bollore. "We are waiting for the final details in the coming weeks and the initial investment of 5 million euros is a good start for an advertising agency.
"This move represents a major step in Havas Group's expansion in China. China is one of the fastest-growing markets in the world and now holds the second place in terms of advertising spends, which offers outstanding opportunities for brands."
In an interview, Bollore shared his views on Chinese digital technology and his management philosophy.
How was your visit to China? How do you see the Chinese economy?
I'm very honored to be part of the French delegation and it gave us more opportunity to discover China. We had very interesting conversations with Chinese officials and I loved the four days I spent in Beijing. It's very inspiring.
In the past 10 years, I came to China every year. And every year it changes, especially in digital technology. Only two years ago, mobile payments and sharing economy were at an early stage. Today, I haven't met a single Chinese without a WeChat account. China is clearly leading the way in digital payments and sharing economy.
Which aspect of the Chinese economy has impressed you most during your visit?
We often talk about BATH-Baidu, Alibaba, Tencent and Huawei. One thing that strikes me is that China wants to go international. In the last two days, we have been discussing the Belt and Road Initiative.
We learnt that the initiative will be the foundation of Chinese companies to succeed in the world. And the Belt and Road Initiative will be fantastic to European companies whether in infrastructure or in digital areas. And Havas will be a great communication partner.
How do you see the economic relations between France and China?
It is interesting that between France and China there is a big difference in terms of bilateral investment. French companies invested more in China than China does in France, so we need to be more open to see what we can do together. And France may be a good entry point for Chinese companies to Europe after Brexit.
What difficulty, if any, have you faced in the Chinese market? What's your management philosophy?
No market is easy. Chinese business people are very realistic and they want to go fast. Often they grow faster than European companies. The challenge is, we have to adapt to the speed and pace of the Chinese market. The key to overcome it is to empower the Chinese team to make quick decisions.
If you want to succeed in China, you have to be very Chinese and you have to go the Chinese way.
As a member of the supervisory board in Vivendi, the parent group of Universal Music Group, how do you see the potential of the entertainment market in China?
Entertainment is to provide emotion to people. As Chinese mid-earning class continues to rise, they will have more needs for entertainment and we are very positive about that.
Vivendi is to invest more in China in entertainment. Last year, we signed partnership with Tencent, so now Tencent can provide music from Universal Music to its users. And we are working with other partners to increase our presence in China.
How will digital technology change the advertising industry? How can Havas maintain its leading position in China?
To be honest, it's the biggest revolution after electricity and cars, and it's completely changing the way people communicate with each other.
Before, we used to do top-down research and we expressed message from TV or radio. Now, it's different. Every Chinese has a WeChat account now and it's becoming a new way of behaving. We don't connect in the same way like before.
Havas has already been leading this technology and digital mobile marketing is our specialty. As one of the biggest advertising companies, we have lots of knowledge that we can apply to China.
The resources from Havas and GIMC are all the assets that are intangible and we have unparalleled advantage. We are very optimistic.
China is the second-largest advertising market in the world. We'll keep investing in China and we're intent to invest more in the talents.
CV
Name: Yannick Bollore
Age: 37
Nationality: French
Career:
2013 onwards: Global chairman and CEO of Havas Group
2012: Honored as Knight of the Order of Arts and Letters of the French Republic
2008: Awarded as Young Global Leader at the World Economic Forum
2006: Joined his family business-the Bollore Group
2001: Founded movie production company "WY Productions"
Education:
Bachelor's degree from Paris Dauphine University
Family:
Married, four daughters.