Effort required on relations: Cui
By By CHEN WEIHUA in Washington | China Daily USA | Updated: 2018-02-15 00:04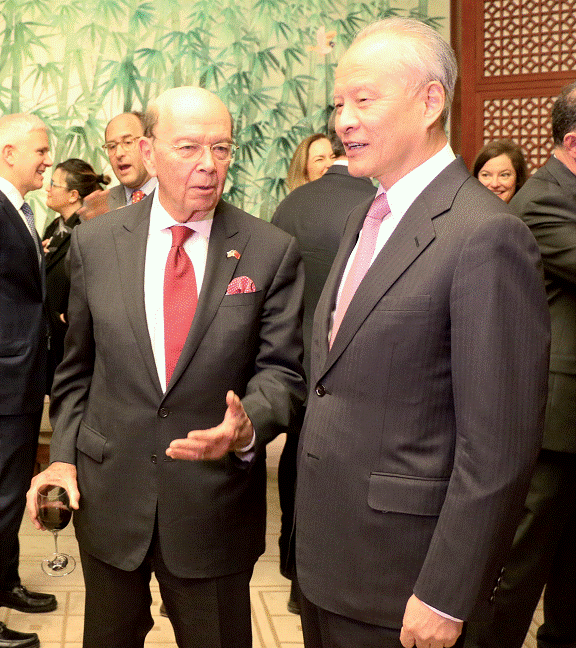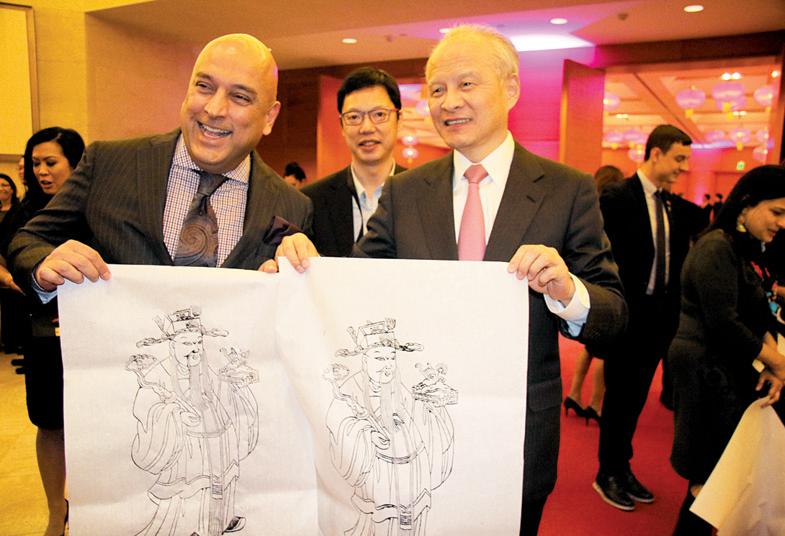 China's top diplomat to the United States called for the two countries to continue to work together to keep their relationship on the right track.
Cui Tiankai, the Chinese ambassador to the US, made the remarks on Tuesday evening at a Chinese Lunar New Year celebration at the Chinese embassy, attended by more than 700 people, including US Secretary of Commerce Wilbur Ross and several other senior US administration officials and lawmakers.
Cui said China is looking forward to new progress in bilateral relations. "Indeed, China-US relations are at another important juncture now," he said.
Tensions have increased in recent months as the Trump administration singled out China as its major strategic competitor in its national security and national defense strategies. The US has also imposed a number of protectionist measures on Chinese trade and investment.
Cui spoke highly of the important progress in the relationship in the past year. He said President Xi Jinping and US President Donald Trump have maintained strategic communications, which gives clear guidance to the relationship.
The two leaders launched four dialogue mechanisms when they met at Mar-a-Lago in Florida in April. All of the meetings were held in the second half of the year.
"Going forward for the months and years ahead, let's work together to keep this important relationship on the right track, on the basis of mutual respect and maybe better mutual understanding," Cui said.
The ambassador acknowledged the differences, disagreements and problems that continue to exist in the relationship, but he said cooperation and dialogue are far more important.
"Constructive cooperation will enhance both of us and even enrich the world," he said. "Neither of us will have to give up anything it holds dear."
Cui dismissed it as wishful thinking for some people to believe that "some political or cultural genetic engineering could be done to change China's DNA. And it is certainly paranoid that a China that follows its own path of development will be confrontational to the United States".
Cui warned that it is dangerous to advocate any strategy for confrontation, clearly referring to the latest US national strategies unveiled by the Trump administration.
He said the key to a successful relationship lies in win-win cooperation and mutual benefit.
"Harmony but not sameness, diversity but not confrontation, these values are deep-rooted in the Chinese culture," said Cui, citing words by Confucius.
He said the bilateral relationship should be characterized by overall cooperation, but added that while friendly cooperation is necessary, there should be no confrontation.
In wishing the guests a happy and prosperous Year of the Dog, Cui described dogs as loyal, sincere and trusting companions in both Chinese and Western cultures.
"And I believe such virtues are equally essential for relations between countries," he said.
Stuart Holliday, president and CEO of Meridian International Center, which co-sponsored the celebration on Tuesday with the Chinese embassy, said he was happy to be told that the number eight in the year 2018 is a lucky number of China.
"We hope this will lead to a positive year in our dialogue, and in our relationship, diplomatically, economically, culturally," he said, ahead of a performance by artists from Chengdu of Southwest China's Sichuan province, who enchanted the audience with Sichuan Opera face-changing, acrobatic and dance programs.
chenweihua@chinadailyusa.com