Empire State Building lights up for Friday's Lunar New Year
By HONG XIAO in New York | China Daily USA | Updated: 2018-02-15 00:14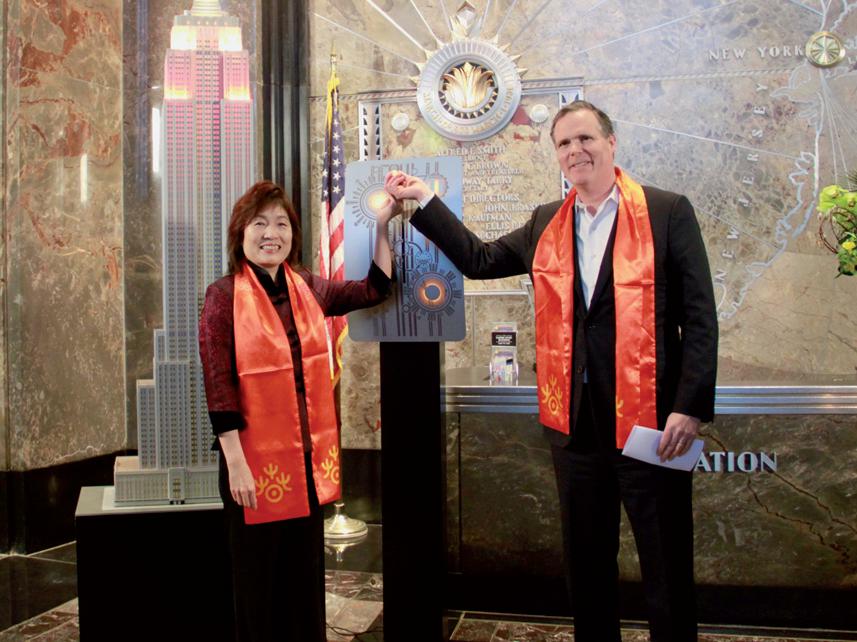 Celebrating Chinese Lunar New Year is gradually becoming a tradition for New Yorkers, especially since it was announced as an official public school holiday in 2016.
In honor of Lunar New Year, which falls on Friday, Feb 16 this year, a raft of celebrations are being held across the city. An estimated 1.1 million public school students in New York will be joining in the celebrations.
"Spring Festival is no longer merely celebrated by Chinese or Asians, it has become a festival for all New Yorkers," said Zhang Qiyue, Chinese consul general in New York.
"It indicates the rise of China's global status as Chinese culture becomes more and more attractive," she added.
Zhang made her remarks after flipping the switch in a lighting ceremony at the Empire State Building in New York on Tuesday morning. She was joined by John B. Kessler, president and COO of Empire State Realty Trust.
An international icon of the New York skyline, the Empire State Building tower lights will shine for Lunar New Year from Tuesday to Thursday.
The lighting scheme, designed by the Fantastic Art China and China Central Academy of Fine Arts, will glow in red, gold, blue, and white, representing happiness, prosperity, peace and good fortune.
The dynamic light show also will emulate the Lunar New Year fireworks display that will take place over the Hudson River the evening of Feb 14.
A tradition that started in 2001, according to Zhang, "the lighting ceremony has become a well-known and popular event not only for Chinese communities here but also to the Chinese at home across the Pacific.
"Lights on the top of the Empire State Building showcase the spirit of friendship, peace and harmony and encourage more visitors to New York City, promoting cultural exchange and people-to-people exchange between our two countries," she said.
The Empire State Building is also celebrating the Year of the Dog with an art exhibition in its Fifth Avenue lobby windows, designed by the China Arts and Entertainment Group.
In China, the dog is a symbol of loyalty and good luck. Kessler explained that the windows feature a dog jumping out of the well-known Chinese painting the Ten Hunting Dogs of the Kangxi Emperor, "to wish all a prosperous New Year."
A group of Chinese tourists watched the ceremony while preparing to visit the building observatory.
"I'm so surprised to see Chinese New Year is celebrated ceremoniously here in New York, I feel so proud," said Ms. Wang, a tourist from Xi'an, capital city of Shaanxi province.
The Chinese Lunar New Year, also known as the Spring Festival, is the biggest Chinese celebration of the year. Traditionally, festivities continue for at least 15 days.
Soaring 1,454 feet above Midtown Manhattan, the Empire State Building is the "World's Most Famous Building." Its observatory is one of the world's most beloved attractions and the region's top tourist destination.
xiaohong@chinadailyusa.com