Germany's Merkel picks close ally, potential successor to join CDU leadership
Xinhua | Updated: 2018-02-20 07:45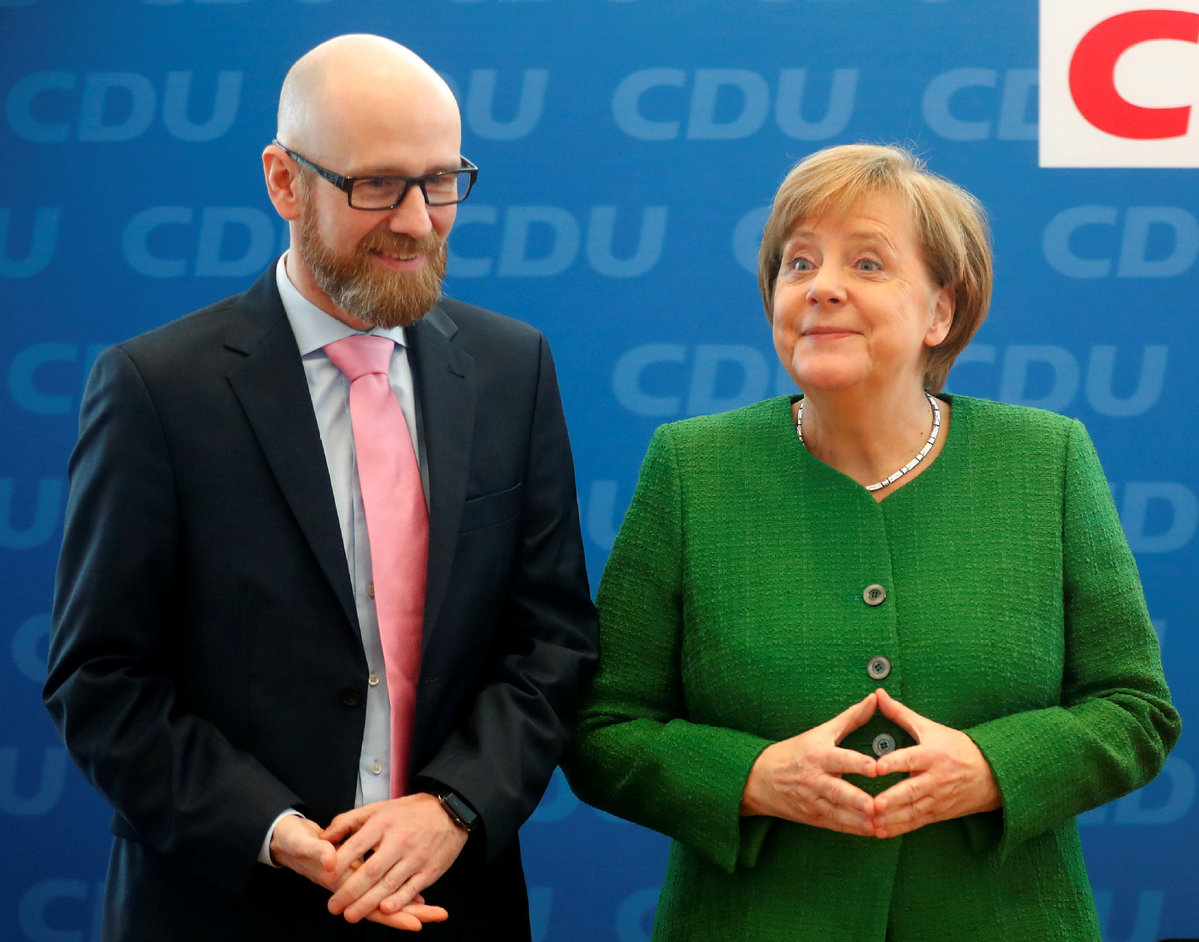 BERLIN - German Chancellor Angela Merkel, also head of the ruling Christian Democratic Union (CDU), on Monday nominated governor of Saarland State Annegret Kramp-Karrenbauer to be the party's new secretary general.
Kramp-Karrenbauer, one of Merkel's closest political allies, is respected in the CDU for helping the party win Saarland's state election last and played a key role in coalition talks between the CDU/CSU bloc and the center-left Social Democrats (SPD), according to a report by German broadcaster Deutsche Welle.
Kramp-Karrenbauer, aged 55, has long been tipped as a potential successor to the veteran stateswoman in the CDU.
She will resign from her current post as governor of Saarland in order to move to Berlin, potentially paving the way to a more prominent role in federal politics in the near future.
Kramp-Karrenbauer will hereby succeed Peter Tauber as secretary general who has suffered from poor health for several months and had also come under attack from more conservative factions in the CDU for his relatively liberal views on immigration and same-sex marriage. The personnel change is scheduled be formalized at a party conference on Feb. 26.
Announcing the decision on Monday at the CDU's headquarters in the Konrad-Adenauer House, Merkel said that Kramp-Karrenbauer had suggested herself as a candidate for the post.
She praised the regional politician's dedication to party and country, noting that could not be "naturally" expected from a governor who had only recently won her own state elections in Saarland to resign and move to Berlin.
Kramp-Karrenbauer told reporters that her move was motivated by a desire to help Germany overcome its current political instability. "It was not an easy decision for me," she said.
As secretary general, Kramp-Karrenbauer wants to focus her attention on "fostering a debate" on the strategic re-orientation of the German conservatives.
Kramp-Karrenbauer is only the second woman to hold the post of secretary general in the CDU. As the first to do so between 1998 and 2000, Merkel used the post's proximity to the higher echelons of power in Germany to emerge from the shadow of her political father figure and ex-chancellor Helmut Kohl, becoming CDU leader in 2000 and ultimately chancellor in 2005.
After more than 11 years in office, however, German media have begun to speculate that Merkel's reign may be drawing to a close.
Drafting a final grand coalition" agreement more than five months after national elections in September, Merkel has come under heavy pressure from members of her own party for what were widely perceived to be painful political concessions to the German Social Democrats in the resulting joint statement.
In response to such criticism, the chancellor has promised a process of "renewal" in the CDU, which would witness an elevation of younger party members to senior positions amongst others.
Speaking on Monday, Merkel said that the nomination of Kramp-Karrenbauer as secretary general had been received positively within the party leadership in this context.
Nevertheless, some voices in the CDU expressed disappointment that Kramp-Karrenbauer had been chosen over the conservative hardliner Jens Spahn. Spahn himself told German newspaper "Welt" that he hoped that the new secretary general would herald deeper changes.
"The CDU is at the start of an important process of discussion, also with regards to articulating a new basic program," Spahn said.
Other German parties interpreted Kramp-Karrenbauer's new role as a sign that calls within the CDU to shift to the right of the political spectrum had gone unheard.
Instead, Kramp-Karrenbauer's nomination meant that the CDU would "continue its centrist course", Green party (Gruene) leader Robert Habeck opined.
Similarly, left party (Linke) leader Katja Kipping perceived Merkel's decision as constituting a "rejection of the CDU's young right guard".
Kipping further described the nomination of Kramp-Karrenbauer as the first step in a looming "change of guard in the chancellery".