Ming-era painting on display at US museum
Xinhua | Updated: 2018-03-01 07:20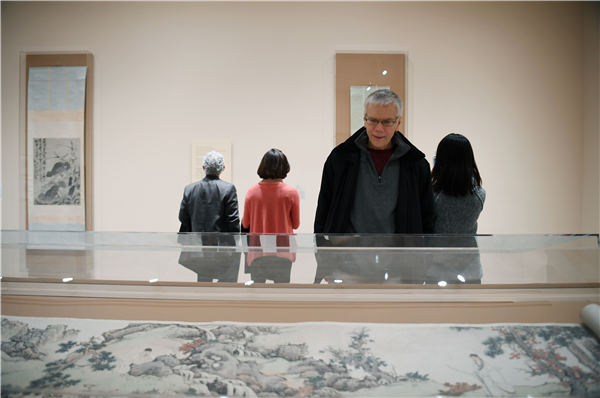 Martha Bleshman, a resident of San Francisco Bay Area in the United States, spends time examining a lotus painting by a Chinese artist more than 300 years ago.
She says she is impressed by what she sees.
"When I look at paintings of lotus, I mostly see flowers, but in this one I see mostly leaves."
The Lotus by Ming Dynasty (1368-1644) master Shitao in 1706, depicts the plant with only black ink in an abstract and eccentric manner.
Also on display at the ongoing exhibition, titled Cal Conversations: Dreaming the Lost Ming, at the UC Berkeley Art Museum and Pacific Film Archive are 10 other artworks by Chinese artists and connoisseurs of the 17th century.
The exhibition, which runs through May 13, is designed to offer the American audience a glimpse into the cultural world when China was in transition from the Ming to the Qing Dynasty (1644-1911).
"As a child, we went to the Metropolitan Museum in New York and looked at the Chinese landscape paintings. I would imagine myself in the mountains," says Bleshman.
"The sense of the vastness of the space and the people being little within it-I think it is represented beautifully through the distinguished style," she says.
The traditional Chinese paintings appeal to the contemporary audience because the figures and human dwellings depicted in them resonate with how people live today, says Julia White, senior curator for Asian art at BAMPFA.
"It's important for people to look carefully and experience the paintings not only as an overall composition but also in terms of the brush work-how the artist creates a three-dimensional scene simply with a brush," she says.
To Judith Berling, a professor of Chinese and comparative religions at Graduate Theological Union, the lack of knowledge does not prevent a viewer from appreciating the traditional Chinese paintings.
"It's a lovely exhibit. It shows the life of the Ming Dynasty city of Nanjing," says Berling, while guiding a group of three friends through the exhibition.
Nanjing, known as Jinling at that time, was a flourishing urban center of pleasure and artistic innovation.
A similar exhibition, which just concluded last month at BAMPFA, focused on Chen Hongshou, one of the finest artists in 17th-century China. His bird-and-flower paintings display a freshness that appeals to modern viewers.
"I think the American public is being made aware of the traditions of Chinese culture through exhibitions like these, where they can see up close and be personally engaged with these works of art," says White.
"The fact that these paintings have been collected, preserved and now shown here in Berkeley 300 years after they were made is in itself quite remarkable," she says.
Related Stories