Staying on target
By Cecily Liu | China Daily Europe | Updated: 2018-03-05 08:50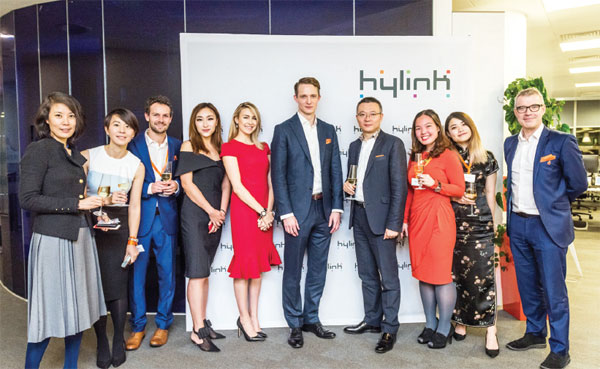 Since establishing a US office in Los Angeles, digital marketing agency Hylink has helped US advertising clients to better reach Chinese customers
Northern California has many attractions - the vineyards of Napa Valley, the Golden State Warriors basketball team included. But two years ago, the San Francisco Travel Association was wondering what more it could do to attract Chinese travelers.
Back then, San Francisco was already hosting hundreds of thousands of Chinese visitors, but that was far from its potential, given the fast growth in the appetite of Chinese people for travel.
"They knew San Francisco was popular to Chinese travelers, but they didn't know why, so it was hard to think of how to do a better job," says Humphrey Ho, US managing director of Hylink, a leading Chinese digital marketing agency, which took the San Francisco Travel Association as a client in 2016.
With Hylink's help, San Francisco managed to grow its revenue from Chinese travelers "by multiples", says Ho, although no official statistics were available.
Although Hylink cannot take all the credit for this growth, its digital marketing strategy did help. One important strategy, Ho says, was to help the San Francisco Tourism Agency tell its stories across various Chinese social media and travel platforms, including the Twitter-like Weibo, WeChat and Ctrip, the tour company that bought Skyscanner in the UK.
"We did not just translate the English social media content into Chinese. Instead, we created fresh content to suit the Chinese audience's needs," says Ho.
On WeChat, for example, Hylink manages the San Francisco Travel Association's account, releasing weekly stories that update Chinese travelers on the most exciting activities and attractions during each season of the year.
In spring, as the weather gets warm, Hylink will publish stories on San Francisco's outdoor activities, whereas in October it will invite Chinese visitors to watch basketball.
During Chinese New Year, Hylink gives Chinese visitors special gift ideas, taking them away from luxury shopping on the high street, into the San Francisco Museum of Modern Art's gift shop, inviting them to pick up unique items such as an artistic beaded necklaces or pencil cases with a dog design, marking the Year of the Dog.
These posts also take Chinese visitors to San Francisco's concert halls, the yoga rooms at San Francisco International Airport, and many low-key corner cafes that pride themselves on being a neighborhood's best-kept secret.
Ho's team also made films, giving Chinese viewers a behind-the-scenes tour of Napa Valley and San Francisco's culinary scene.
"By sharing this targeted information with viewers, we've helped the San Francisco Travel Association attract many more return visitors," says Ho.
Since Hylink established its US office in Los Angeles in 2016, it has helped more than a dozen US clients to better reach Chinese customers. Last year, Hylink also launched a London office, inside The Shard, a landmark London building. Hylink's London business attracted British clients, including the British Museum and Harrods.
Harrods has asked Hylink to help it buy digital advertisement space on the Wechat platform, while the British Museum is asking Hylink to manage its Wechat account to attract more Chinese visitors, just as the San Francisco Travel Association did.
Hylink's growth could be a reflection of China's transformation from the world's factory to a knowledge economy. Gone are the days when China's international links were built on the back of its cheap manufactured exports. Instead, as the world looks to sell goods and services to China, knowledge-based companies such as Hylink are playing a crucial communications role.
Hylink was founded in 1994 by Su Tong, a Chinese entrepreneur. After graduating from Beijing Technology and Business University, Su founded his own advertising company, initially focusing on traditional advertising channels.
By the 2000s, China's digital economy emerged, led by the rise of flagship companies such as the search engine Baidu, the ecommerce platform Alibaba and the internet service company Tencent, collectively known as BAT.
"Su is a visionary leader. He immediately saw that digital advertising is the way for the future in China, so in the early 2000s he reoriented the company's direction," says Ho.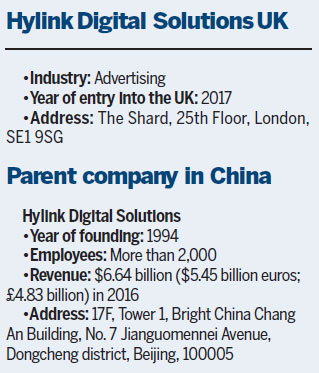 What Su did makes sense in retrospect, but in the early years his actions were considered pioneering. Despite the massive scale of Baidu, Alibaba and Tencent today, these three platforms were all founded between 1998 and 2000. In 2002, Su changed his company's name from Hylink Advertising to Hylink Digital Solutions to reflect the new direction.
Looking back, the direction Su foresaw was proved by history. According to the latest forecast by eMarketer, by 2020 almost 60 percent of total media advertising expenditure is expected to be through mobile channels. In this respect, platforms such as Weibo and Wechat are the key.
In 2016, its revenue grew to $6.64 billion (5.45 billion euros; £4.83 billion), of which net income hit $102.67 million. In 2017, Hylink went public on the Shanghai Stock Exchange, raising $87.2 million through the initial public offering. With more than a dozen domestic and international offices, Hylink now employs 2,000.
Over the past few years, Hylink also increased its investment in big data and artificial intelligence solutions, which have become popular fields in the digital sector. At Hylink's research and development center in Silicon Valley, a team of five scientists are now developing the prototype for a technology that uses artificial intelligence analysis to tell clients who and where their customers are.
"Traditionally, the client would have an idea of where their target customer groups are located, what age groups those clients fit into and what those people like. They give us the information and we then find the right advertising platforms to reach these people," Ho says.
Now, with AI, Hylink can run data analytics based on the hundreds of billions of search results it has in its database to find out the true target audience that advertisers should focus on.
"Our search results come from diverse user data, such as clicks, app usage, social media commentary and gaming information. We use these data to help clients to further understand their target audience, and then we help them to find the right channels to reach these users," Ho says.
Despite Hylink's position as one of the leading companies in advertising placement in China, it still lags behind global advertising giants such as WPP, Omnicom and Dentsu, which entered China through acquisitions and joint ventures in the 1990s and 2000s.
WPP, for example, currently generates around $1.6 billion in annual revenue in China and employs 14,000. The company initially entered China in 2002 by acquiring a local communications company in Beijing through its subsidiary Ogilvy & Mather, and in the same year acquired a minority stake in a Shanghai advertising company.
Today, Ogilvy & Mather and other WPP subsidiary brands such as Hill & Knowlton still dominate the market for Western multinationals' marketing activities in China.
Mu Qing, CEO at Hotnest Internet Technology, a Shanghai-based digital marketing platform, says Chinese local digital marketing companies such as Hylink still have some catching up to do.
"Hylink may say that it enjoys the advantage of having local market knowledge as a Chinese company, but the reality is, WPP's China team is run by local Chinese who possess the same local market knowledge," says Mu.
But James Hebbert, managing director of Hylink UK, disagrees. Having had a long career at the WPP company Ogilvy & Mather, Hebbert says he personally believes a big corporate culture difference exists.
"Hylink's corporate culture is significantly influenced by our founder Mr Su's can-do attitude and directness. For instance, I can communicate my thoughts with Mr Su, but in Ogilvy the corporate hierarchy is more complex," Hebbert says.
In addition, Hebbert says Su's preference for organic expansion is in sharp contrast with WPP, famous for its fast growth through acquisitions. "Instead of forcing two teams into one, we prefer to take our time and build the right team."
cecily.liu@mail.chinadailyuk.com