Security guard realizes his artistic dream
By Feng Zhiwei | China Daily | Updated: 2018-03-08 16:23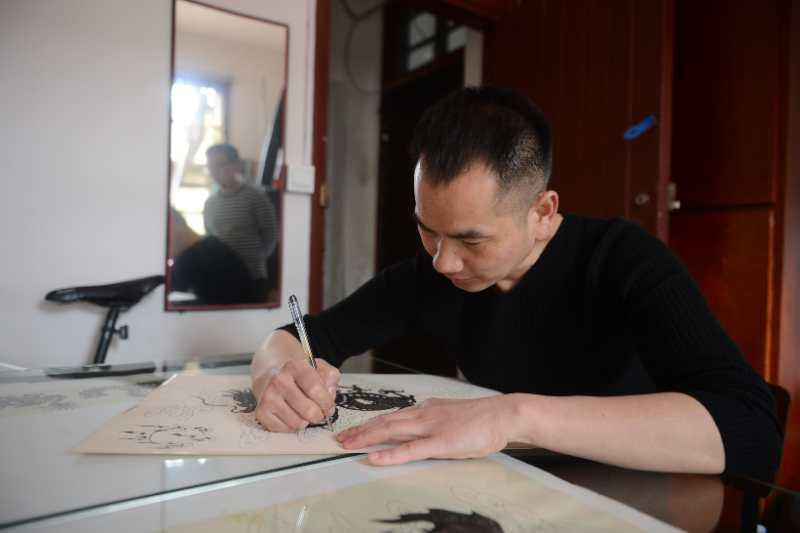 A security guard was able to do more than maintain safety and earned a name for himself as an artist, specializing in drawing dragons, thepaper.cn reported.
Jiang Shengxi started drawing the creatures as a 9-year-old. In 2009, one of the professors at Hunan University, impressed by his style, showed his works to Chen Feihu, vice-dean of the architecture department and vice-president of the Hunan Artists Association. Chen was amazed by Jiang's skills and accepted him as an "unofficial student".
With Chen's guidance, Jiang quickly improved his style, color, and composition and in 2016 published his collection and held his first solo exhibition in Hunan University.
Jiang's early life was harsh and he wasn't able to finish school. He had to find work in Changsha, the provincial capital of Hunan province. For more than 20 years he survived by taking odd jobs and worked as an apprentice, construction worker, and retailer. Never did he imagine that his painting could draw a new life for him.
"I plan to hold an exhibition in my hometown in the first half of 2018," Jiang said. "I hope I have the chance to hold more exhibitions in more cities."
Qiu Weiyi contributed to this story.