Hong Kong shark fin imports down 50 pct in 10 years: WWF-Hong Kong
Xinhua | Updated: 2018-03-08 19:42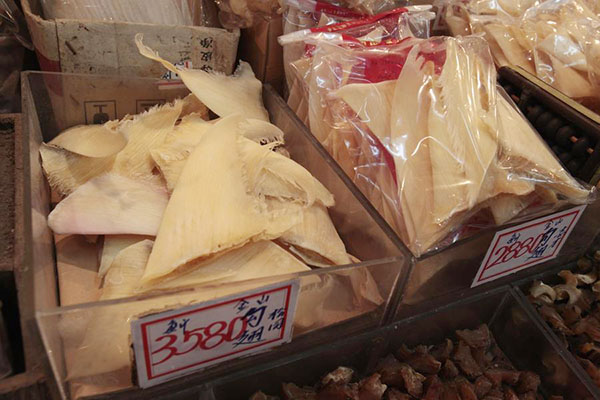 HONG KONG - Hong Kong's imports of shark fin dropped over 50 percent in the past 10 years, which is due to the decline of consumption amount and shipping companies' ban on shark fin carriage policy, World Wide Fund (WWF) Hong Kong said on Thursday.
The volume of shark fin imported into Hong Kong has dropped from 10,210 tons in 2007 to 4,979 tons in 2017, down over 50 percent, said WWF Hong Kong, quoting the latest figures from the Census and Statistics Department of China's Hong Kong Special Administrative Region government.
Tracy Tsang, WWF Hong Kong's senior program officer for oceans sustainability, said the actions of WWF and other green groups to reduce shark fin consumption and introduce airline and shipping bans have had a real impact.
"We are now working towards making Hong Kong a shark fin free zone in the next decade or less," Tsang added.
Since 2007, WWF Hong Kong has launched a string of shark conservation actions, which includes engaging corporations to make a no shark fin pledge and not to promote trade or consume shark fin; publishing "No Shark Fin Carriage Policy - Implementation Guidelines"; and promoting alternative shark-free menu.
WWF Hong Kong has focused its work on the global shipping companies since 2015, and the latest figures indicate that the campaign may be helping shipping companies to implement their no shark fin carriage policies.
WWF Hong Kong urges the remaining shipping companies to establish no shark fin carriage policies, and corporations and the public to say no to shark fin.