From Austin to Alibaba: making pitch in real time
By May Zhou in Austin, Texas | China Daily USA | Updated: 2018-03-14 11:14
Texas companies made the best of an opportunity to sell to a live audience in China on Monday.
Austin City Hall was the setting for the event, which unfolded on Alibaba's video platform and went past 2 am Tuesday (3 pm in Wednesday China).
The business opportunity took place as the state capital hosts the annual SXSW gathering from March 9-18. SXSW, short for the South by Southwest Conference & Festivals, celebrates the convergence of the interactive, film and music industries.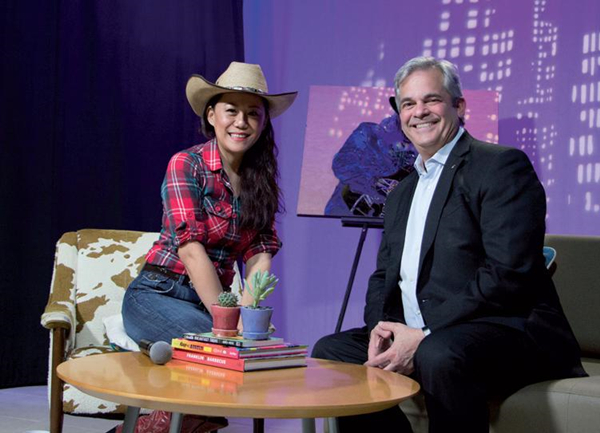 Nicole Beckley, marketing director at Merlot, an El Paso company specializing in grape seed-based skincare products, was the first to go live.
"We just started going to China last year by working with a distributor in China. This is the first time we pitched the product through Alibaba. We try to get more international exposure to make sure people outside the US know about our products," said Beckley. "This is a huge opportunity for us."
Larry MacPhee, general manager at Elta MD Skincare, discussed the company's products.
"We make sunscreen and skincare products based on science we learned in woundcare products. Sunscreen accounts for 10 percent of the $10 billion US cosmetics market. In China, the same ratio is only at 3 percent, but it's growing really fast," he said.
The company already is selling its products in China, but it was the first time it used Alibaba's platform. MacPhee said he has personally shopped on Alibaba and is impressed by its power.
Austin-based BlueAvocado was promoting its Rezip products. "Rezip products are designed to eliminate disposable plastic bags to empower our customers to be more responsible. It helps to reduce waste and ultimately helps to preserve our environment and oceans," said Paige Davis, co-founder.
Joseph Rios, sales director of Amorada Tequila, said the company's tequila is made of "100 percent agave with a different aging process. ... We hope to initiate our global relationship with China. This is a great opportunity to introduce us to China.
"We already trademarked our product in China. Hopefully after this, we will be able to figure out steps to sell in China," he said.
Others products touted included organic snack food, baby food, coffee beans and electronic wearables, all made by Austin companies.
Austin Mayor Steve Adler also participated in the webcast - with translation help from Vivian Forrest, CEO of China Gathering at SXSW. Adler explained the benefits of Austin and SXSW to the Chinese audience.
"There were 15 companies from China at the SXSW last year, and this year we have about 60; this is very exciting for us," Adler said to Forrest while preparing to go live.
"They already got about 20 orders," an excited staff member told the mayor of the first brand pitched.
Adler beamed.
"Austin is a magical place because of the people living here, the mayor told the Chinese audience. "It's a city that's creative and innovative. People want to try new things.
"The city of Austin is so excited to be part of the Alibaba program because the whole concept of the new economy and new way to market is part of the culture of this city as well," Adler said. "Every year there are more and more ties between Austin and China. Here, there are so many businesses and companies that want to make connections with China."
In a brief interview with China Daily, Alder said that when he made his first economic development trip to China about two years ago, he found that Austin was not well known in China, comparable to New York or Houston.
"One of the most important stops I made was Alibaba. We talked about collaboration and what we could do for each other," Adler said. "In participating in this collaboration, we get some Austin small businesses to get exposure to markets in China. Austin is so exciting and growing, it's prime for investors and buyers in China because it's a secret that Austin is doing so good right now."
A similar pitch was conducted for the first time last year during SXSW, with viewership of about 13,000 in China, according to David Colligan, manager of global business expansion for the city of Austin.
"It's wonderful to get such visibility in such a short time for so many companies. There is a lot of fear in how people will be able to connect with foreign markets in the future; we are excited to continue international ties," said Colligan, referring to trade issues with China and other countries at the federal level.
"We want to make sure that small businesses know these opportunities are still available to them. It's all about creating the relationships and building capacity in the areas," Colligan said.
mayzhou@chinadailyusa.com