Eastern US braced for third storm
China Daily | Updated: 2018-03-14 16:06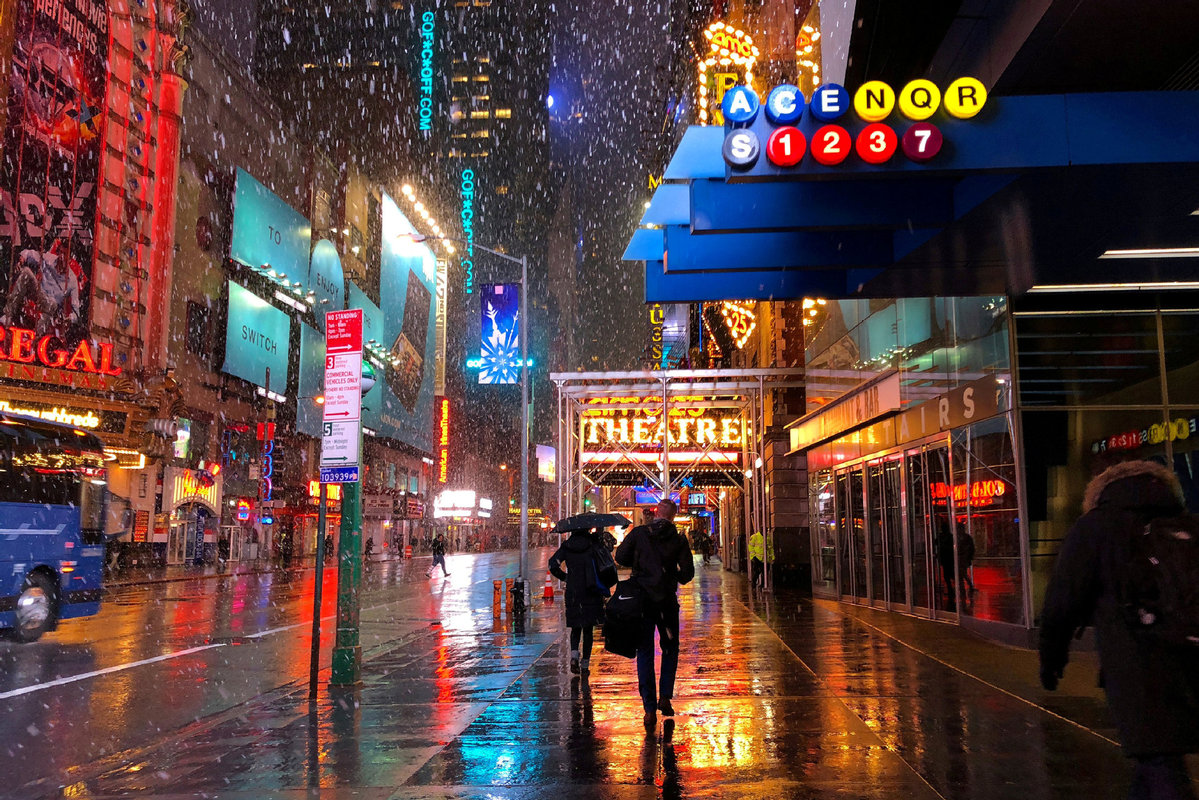 BOSTON - A winter storm packing a powerful snowy punch bore down on the northeastern United States on Tuesday, closing schools, snarling travel and threatening to knock out power to thousands of homes and businesses.
The nor'easter follows two storms that rumbled up the East Coast this month, killing at least nine people and knocking out power to about 2.4 million people and businesses.
Winter storm warnings were in effect from Connecticut to Maine, the National Weather Service said, warning that cities including Boston could see as much as 46 centimeters of snow, far more than that dumped by the last two storms this month.
"We're gearing up for a major storm," Boston Mayor Marty Walsh told a news conference on Monday. "We haven't seen this type of storm since 2015 ... it seems like this one is going to be a big one."
Schools in Boston and Rhode Island were closed on Tuesday and Amtrak planned to halt train services between Boston and New York.
The weather service in New York warned that during the storm's peak, snow could fall at a rate of up to 7.6 cm an hour, making travel treacherous.
"The snow is beginning to overspread the area and pick up in intensity," it said in a Twitter message. "Conditions will continue to deteriorate through the early morning."
Nor'easters are storms that typically bring strong winds from the northeast, and they tend to occur most often and most violently between September and April along North America's East Coast, the National Oceanic and Atmospheric Administration said.
Winds are expected to reach 105 kilometers per hour in coastal areas, the weather service said, adding that the blizzard warning means sustained winds of greater than 56 km/h along with visibility of less than a quarter mile for prolonged periods.
This storm's heavy snow could down trees weakened by the last two storms and bring a fresh wave of power outages, officials warned.
Lower tides meant the storm would probably not bring a repeat of the flooding in Boston this month, forecasters and officials said.
"Three nor'easters in less than 2 weeks isn't easy on anyone - and we are extremely grateful for the hard work of our first responders, utility and road crews, and municipal officials who have been working nonstop to clean up after these powerful storms," Republican Massachusetts Governor Charlie Baker wrote on Twitter Monday night.
Reuters - AP