BYD net profit down 20% in 2017
Xinhua | Updated: 2018-03-28 16:27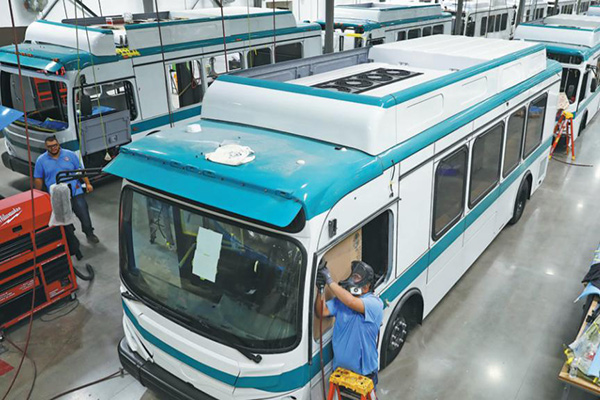 SHENZHEN - China's leading new energy automaker BYD posted a 19.5-percent decline in net profits last year amid "significantly reduced" subsidies for new energy vehicles (NEVs) and a sales slump in petrol vehicles.
BYD's annual net profit fell to 4.07 billion yuan ($648 million), while its revenue rose 2.3 percent to 106 billion yuan, the Shenzhen-based company said in its annual report filed to the Shenzhen Stock Exchange Tuesday night.
NEVs continue to lead the company's revenue and profits, generating 39 billion yuan of revenue last year, up 12.8 percent.
BYD forecast that its first-quarter net profits are expected to fall 75.24 to 91.75 percent to between 50 million and 150 million yuan.
China issued a notice on the adjustment of financial subsidies for NEVs at the end of 2016, which significantly reduced the subsidies, putting pressure on the profitability of related enterprises, according to the report.
The disappointing earnings triggered sell-offs both in Shenzhen and Hong Kong. Shares of BYD in Shenzhen opened at the daily limit of 10 percent lower Wednesday and recovered some lost ground to close the morning trade down 7.55 percent. Its shares in Hong Kong closed the morning trade 9.97 percent lower.
BYD sold more than 110,000 NEVs last year, up 15 percent year-on-year, retaining its position as worldwide leader in NEV sales for the third straight year, said the report.
Its sales of petrol vehicles, however, dropped 24.6 percent year-on-year to 245,000 units in 2017.
The company predicts its NEV sales volume to increase by more than 200 percent in the first quarter of 2018.
Despite a market downturn in pure electric buses, BYD expanded its market share in the sector by 3.2 percentage points to 14.7 percent.
It has "green" buses operating in more than a dozen major Chinese cities, including Beijing, Shenzhen, Guangzhou, and Dalian. The company has also received international orders from cities such as London, Los Angeles, and Sydney.
Due to an enormous amount of subsidies, the domestic NEV industry witnessed a rapid growth in recent years, with 777,000 NEVs being sold on the Chinese market last year, up 53.3 percent. The total production and sales of NEVs are expected to hit 5 million units by 2020.
BYD was listed on the Hong Kong Stock Exchange in 2002 and the Shenzhen Stock Exchange in 2011.