Malala Yousafzai: Youngest Nobel Prize laureate
By Zamir AWAN | chinadaily.com.cn | Updated: 2018-04-02 17:04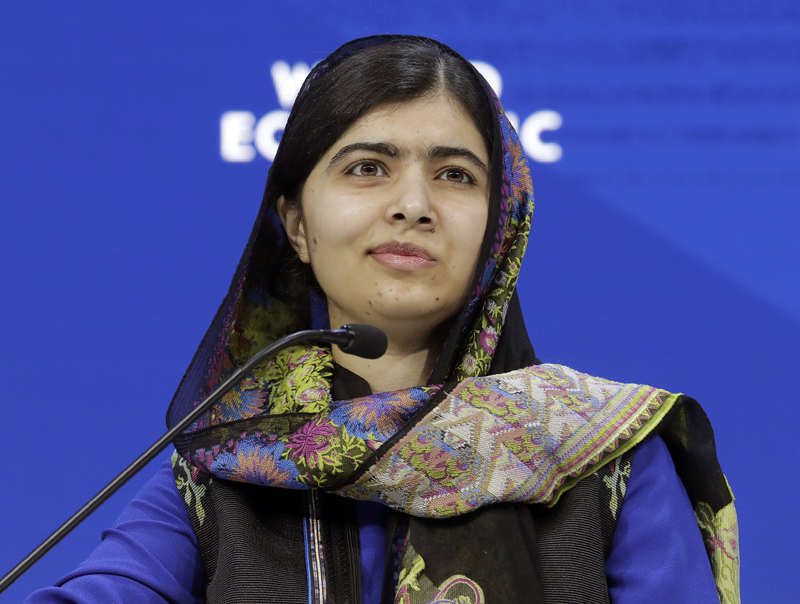 The youngest Nobel Prize Laureate, Malala Yousafzai, is back in Pakistan after five long years. She is a female activist and focuses on female education. She herself was a victim of a Taliban terrorist attack. On October 9, 2012, in her native town of Swat, while on her way home after taking an exam, she was attacked and injured by the Taliban for her role in promoting education for young females. In 2012 and 2013, she was the recipient of Pakistan's first National Youth Peace Prize. In 2014, she was the co-recipient of the 2014 Nobel Peace Prize, along with Kailash Satyarthi, from India. After the attack she was sent to the UK for treatment and recovered fully, then stayed there to complete her education. She studied philosophy, politics and economics.
Malala has been a human rights activist since her childhood and was the author of a blog at age 11. Even threats from the Taliban could not change her mind-set and she kept working to promote female education. She established the Malala Fund and received generous donations from all over the world. The fund is dedicated only for education, especially for females. She has established a very good school in Swat, Pakistan to provide good and affordable education. In addition, she also has worked to promote education among children, especially girls in war-torn Syria. She's also spoken in defense of the Rohingya people who are persecuted in Myanmar.
Her heroes include Mohammad Ali Jinnah, the father of Pakistan, and Benazir Bhutto, former prime minster of Pakistan. Malala is highly educated and was partly brought up in the West. She has a very broad vision and believes in western values. She has a keen interest in Pakistan's politics. She also has expressed a desire to become prime minister of Pakistan. She is ambitious and brave.
On her return to Pakistan, a mixed reaction was observed. Pakistan is a very open and versatile country. Freedom of expression is ensured by the constitution of Pakistan. People frequently exercise their right of freedom of expression. Some people welcomed her and portrayed her as a hope for Pakistan, as she was well educated at famous educational institutions and very well trained in the West. Her contributions for the welfare of females, especially in their education, is very much admired.
Others believe that she might be a plant in Pakistan, as a western envoy to fulfill a western agenda in Pakistan. They think as she was blessed and the beneficiary of the western world, she might play into their hands. Moreover, she was out of Pakistan for the last five years, and may not be well aware of domestic current politics. Above all, she is too young, hardly 20 years old (she was born July 12, 1997), and not mature enough to run a country with a very complex situation like Pakistan.
However, I think she is brilliant, brave and ambitious. She may take an interest in Pakistani politics at the junior level and work hard for some time, till she becomes mature enough to adjust to Pakistani politics and increase her level through her hard work and continuous struggle. Instead of entering into politics on the western ladder, she should penetrate into the minds and hearts of the people of Pakistan. She left Pakistan today and traveled back to the UK.
The author is a Sinologist for the Chinese Studies Center at the National University of Sciences and Technology in Islamabad, Pakistan.