Take steps to prevent fire tragedies
By Robert Lackman | chinadaily.com.cn | Updated: 2018-04-03 11:21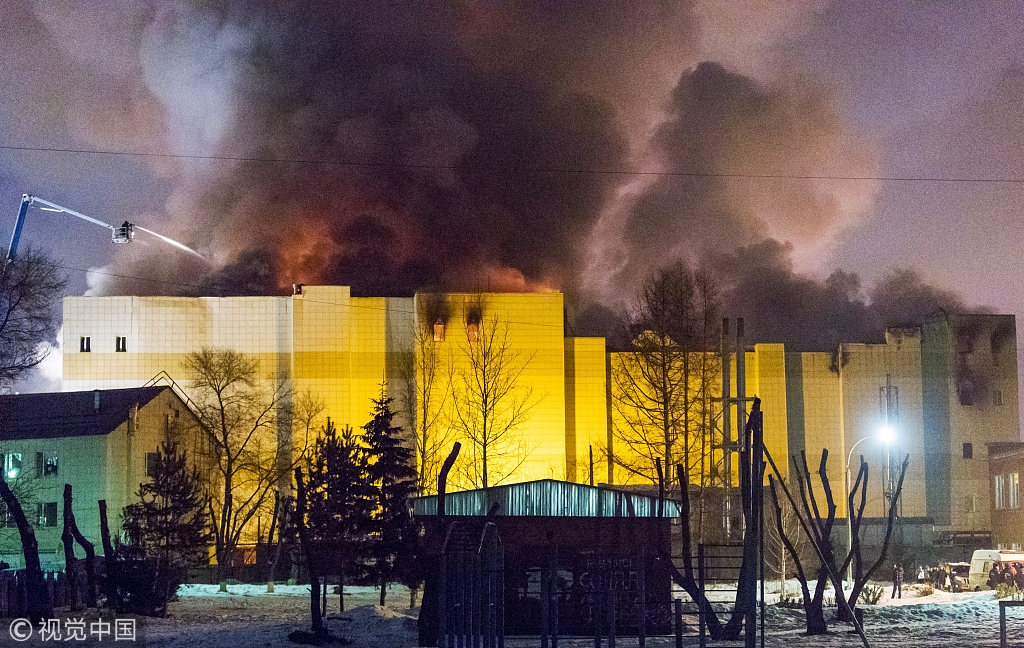 People around the world grieved over the news out of Russia. On March 25, 64 people perished in a fire in a popular shopping mall in Kemerovo, Siberia. 41 children died, including a village's entire school class celebrating spring break. Children as young as 2 perished.
In such terrible times, it is easy to be overwhelmed. It is helpful to remember the heartfelt advice of American children's television host Fred Rogers. He advised we "look for the helpers" as a way to avoid being overwhelmed when faced with tragedy.
In the spirit of looking to the helpers, let me mention the hundreds of firefighters who responded to the blaze. It surely must pain them that despite their efforts so many perished. I recently read the autobiography of US wildland firefighter Brendan McDonough. He mentions the frustration he felt after an exhausting day battling a fire, when he was thanked by local people. He felt so unworthy when he realized they were now homeless, since his team had not been able to contain the fire. McDonough has very mixed feelings when people call him a hero.
I was a wildland firefighter for 5 summers in college. I was not an elite, like the hotshots who travel the country to fight the most deadly fires. I was in an initial attack fire crew. Our job was to stay in our district and put out small fires before they got big. We were blessed to have a good fire boss named Mel who kept us safe. He never forgot how dangerous the job was. Two hundred firefighters doing their jobs have died in the last 20 years. He sadly had to dismiss several firefighters he judged not to be safe. He remarked he would be doing no favors keeping an unsafe firefighter because, as he said, "It is better to have no job than no life!"
He reminded us the most important rule for firefighters is to always have an escape plan. Firefighters can still get trapped despite the best training and caution, because of fire's unpredictability. Firefighters truly are heroes, because they are endangering themselves to serve people.
This is not true for the criminals who lock fire exits. In the US' North Carolina in 1991, 25 people died and 75 were injured at a chicken processing plant because the fire exits were locked. People perished as they left kick marks on the doors trying to escape. The plant owner was sentenced to 20 years in prison.
The same thing happened in the Siberian fire. There were several movie theaters in the shopping mall and the exit doors on some of the movie theaters were locked. After the fire started many parents received phone calls from their children who were unable to escape the fire because of the locked doors. One child said "We are locked in, we are suffocating." Another said, "I love you Mum, I'm dying." A parent will do anything to save their child. My father broke his leg saving me from being washed out to sea. Imagine the horror of the Russian father who heard his daughter say "I am suffocating" and could do nothing to rescue her, because his path was blocked.
This is a tragedy that has happened too many times in too many places around the world. What can be done? One obvious solution is more frequent and thorough safety inspections. Educate people to realize cheap door alarms are available, so there is never a need to lock a safety door to prevent theft. On Amazon.com exit alarms made by Safety Technologies International cost $80.
Next time you see a locked fire exit, please report it to government safety authorities. Please do it, for the sake of the children.
The author has taught at schools in Qingdao since leaving IBM in 1998.