Challenged artists touch US audience
By MAY ZHOU in Houston | China Daily USA | Updated: 2018-04-12 23:10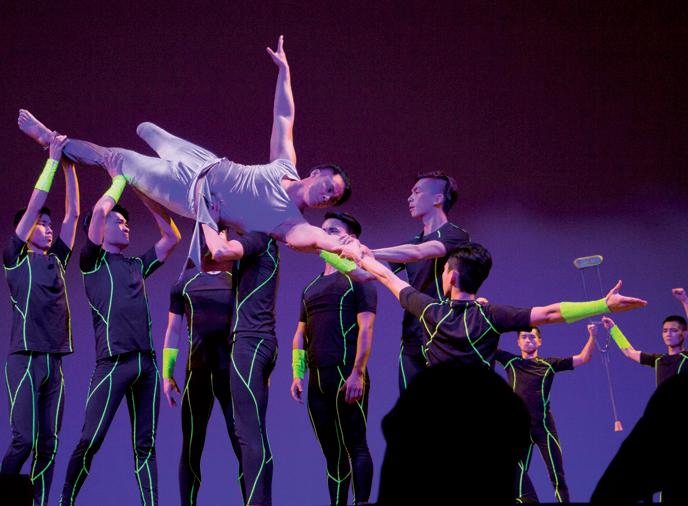 The Lu sisters can't hear a thing, yet their performance of the classic Chinese instrumental duet Spring River in Flowery Moonlight touched the audience deeply; Li Guizheng lost a leg in an accident, but his dance was full of power and grace; Wang Jianhua lost both arms, yet the calligraphy he drew holding a brush between his teeth was stunning.
The Tuesday night program at Jones Hall in downtown Houston reached a climax when a group of performers with impaired hearing performed Thousand-Hand Bodhisattva to remarkable effect.
The audience gave warm applause to the more than 40 performers from Heart Voice Art Troupe at the China Song Ching Ling Foundation.
Pearland Council member Gary Moore and his wife were among those engrossed in the audience. "Beautiful voices and talented dances. What I like the most is the different costumes and the bright colors, it was a great show," said Moore.
"It was quite entertaining and they are very talented. It's an honor," said Moore's wife Christina.
The staff at Jones Hall has seen performers from all over the world at their venue, and they found this group especially extraordinary in displaying both talent and indomitable spirit, according to volunteer Qi Dan.
Consul General of China in Houston Li Qiangmin and Song Ching Ling Foundation Vice-Chairman Jin Duanquan both expressed the sentiment that these artists were goodwill ambassadors for the people of China and the US.
"They will bring the two people closer to each other," said Li.
Established in 1992 by Mu Jianzhi, the Heart Voice Art Troupe has made a name for itself worldwide by encouraging talented people to express themselves through art and creativity.
The troupe, featuring performing artists, has been on a US tour to showcase some aspects of China's achievements during 40 years of opening up and reform. The tour was sponsored by Beijing Zhenru Investment Management.
"The group's first stop was Baton Rouge at the invitation of Louisiana Govvernor John Edwards. Lieutenant Governor Billy Nungesser watched the performance with us. He told us later that the performances 'touched the tenderest part of my heart'," said Cindy Shao, chairwoman at Zhenru.
In Miami, the troupe visited Bak Middle School of Art and experienced what it's like to take a class in the school. "They all enjoyed the interaction and exchange immensely," said Shao.
In Houston, the troupe will visit NASA and get to know Houston better, said Shao. "This is just part of our effort to celebrate the 40th anniversary of China's opening up and reform. More events will follow."