Giant Asian business park in London gets first buildings
By Angus McNeice in London | chinadaily.com.cn | Updated: 2018-04-13 00:59
Chinese developer ABP held a "topping out" ceremony in East London on Thursday to mark the completion of the first buildings in the company's 1.7-billion-pound ($2.2billion) Asian Business Park, which aims to act as a gateway to the United Kingdom for Chinese businesses.
Beijing-based ABP broke ground on the major development at the Royal Albert Dock on the River Thames last April. It is expected to boast 58,993 square meters of commercial office space by the spring of 2019.
Robin Wales, mayor of the Newham area of London that houses the development, welcomed the area's transformation.
"These docks used to be the beating heart of the British Empire," Wales said. "Now, the jobs are coming back to the docks. It's a historic day for Newham. We look forward to working with ABP in getting local people here into work."
Jin Xu, minister counselor of minister counsellor of the Chinese embassy in Britain, said: "It's a great product. One year ago, it was a wasteland. Within just 10 months, they have built this. It's a huge achievement. It's UK quality combined with Chinese speed."
In around eight years, Asian Business Park is slated to grow to comprise 436,000 square meters of office, retail, and residential space along a 2-kilometer stretch of waterfront that has been derelict since the dock closed in 1980.
The project is the largest ever commercial real estate development in the UK to be led by a Chinese company.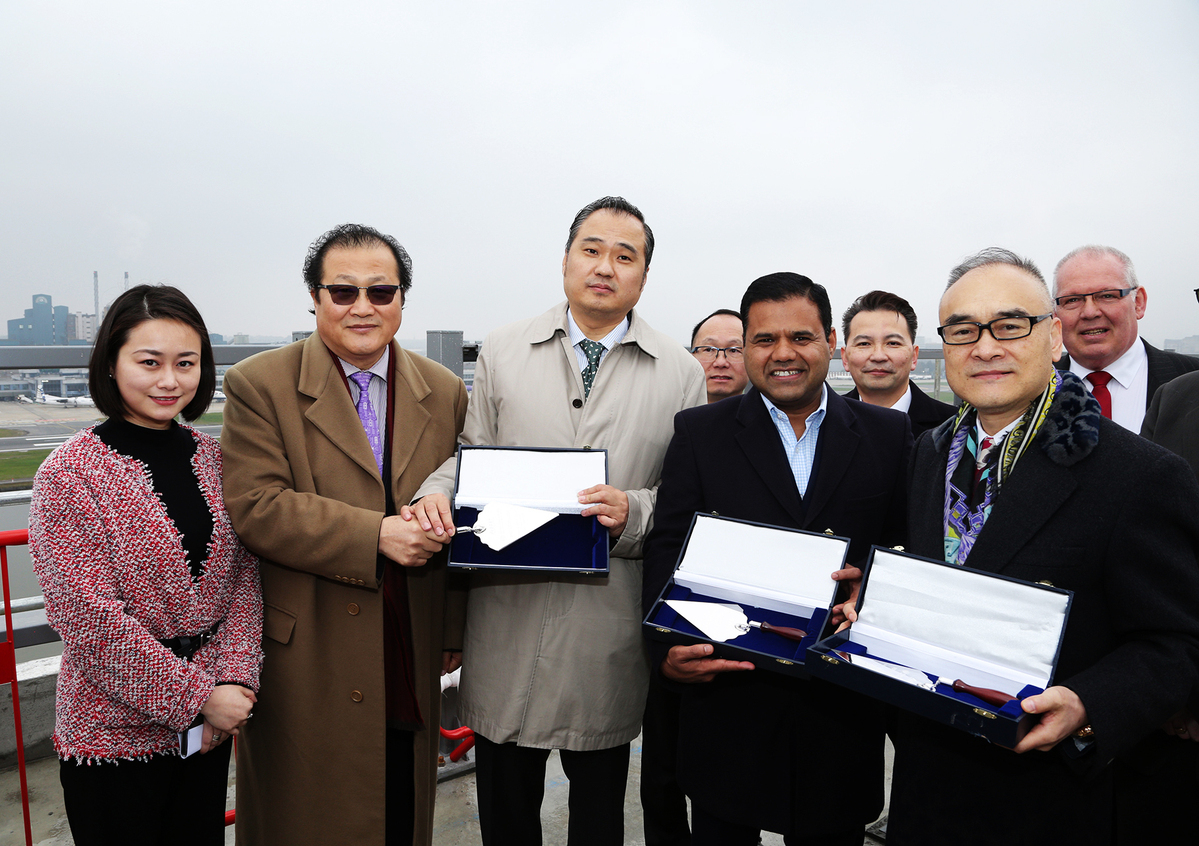 ABP Chairman Xu Weiping said the complex will become London's third major business hub after its two major financial districts.
"We believe it will be competitive with and complimentary to Canary Wharf and the City of London," Wu said. "We have very different positioning. The other two locations are very strong in supporting financial industries. We hope our project will attract a new type of company to London, including firms in technology and the creative industries."
More than 50 businesses, including dozens from China, have already decided to have a presence in the park. UK-based Strawberry Star became the first property group to purchase two buildings in the complex when it completed a 23-million-pound ($32.7 million) deal in December. Strawberry Star exchanged contracts to buy a third building on Monday and has provisionally agreed to buy two more.
The Royal Albert Dock opened in the late 19th century and quickly became one of the capital's busiest trading ports, receiving such shipments as tobacco from the United States and meat and fresh produce from mainland Europe.
The dock fell into decline in the 1950s and the last ship left the port in 1980. Now, ABP hopes the business park will revitalize the area and provide offices space to 500 companies.
Former mayor Boris Johnson,when announcing the birth of the project in May 2013, estimated it will create more than 30,000 jobs and contribute 6 billion pounds to the UK economy.
The business park is ABP's first international development. The company was formed in 2003 and completed its first Chinese business park, a 4,500-square-meter complex in Beijing, in 2010. ABP is constructing two further business parks, in Qingdao and Shenyang, and has plans to build a 55-million-square-meter development in Haining, on China's East Coast.