The victory and a raised shoe that witnessed many games
By LI YINGXUE | China Daily | Updated: 2018-04-13 07:35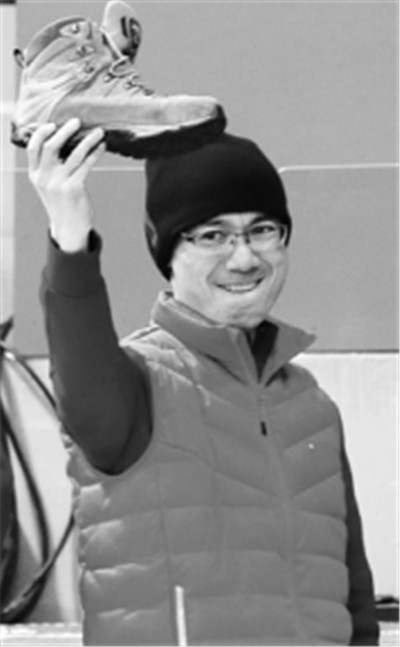 When Wang Haitao's last rock sent China into the final of the wheelchair curling event at the 2018 Pyeongchang Paralympics, every Chinese at the Gangneung Curling Centre was celebrating.
But unlike the others who were hugging and giving high-fives, coach Li Jianrui held up a shoe with pride in his eyes.
A Chinese photographer captured the moment, even though the photo is a bit out of focus.
The photographer was excited as the win ensured China a sliver medal, making it the country's first medal at the Winter Paralympics.
Li explained why he raised one of his shoes after the match.
"Every time our team got a medal in world-class competitions, I was wearing this pair of shoes."
In 2012, China won a bronze medal at the wheelchair curling world championship in Chuncheon, South Korea, its first in world-class competitions for people with disabilities, since the home team was formed in 2007.
A year later, China overcame three consecutive losses in the first three games at the world championship in Sochi, Russia, and won a bronze medal again, where Li was wearing the same shoes.
When competing in the Sochi Paralympic Winter Games, Li was not wearing his "lucky" pair of shoes. Then, China lost to Canada in the semifinal, and lost to Britain in the game for the bronze medal, one step away from the podium.
In 2015, Li wore the same shoes to the world championship in Lohja, Finland.
"We ended up with a sliver medal," says Li.
"So this time, even though our delegation was provided with new shoes, I carried my lucky pair with me."
"Actually the shoes were not with me when we were training for the Paralympics in Beijing, but Liu Wei urged me to carry the shoes to Pyeongchang."
Li then told his wife to send the shoes to Beijing before they headed to Pyeongchang. When the team secured its position for the semifinal in the round-robin session, Li and his athletes made a deal that if they won the semifinal then he would raise one shoe of the pair.
On the day of the semifinal, Li didn't wear the shoes, but put them in a bag.
"I didn't want to put pressure on the team," says Li.
The win came and Li took out his shoe as planned.
"It is not so much about the shoe but about trust and faith," says Li.