World stage needs 'new script': Fu
By Zhang Ruinan in New York | chinadaily.com.cn | Updated: 2018-04-16 05:04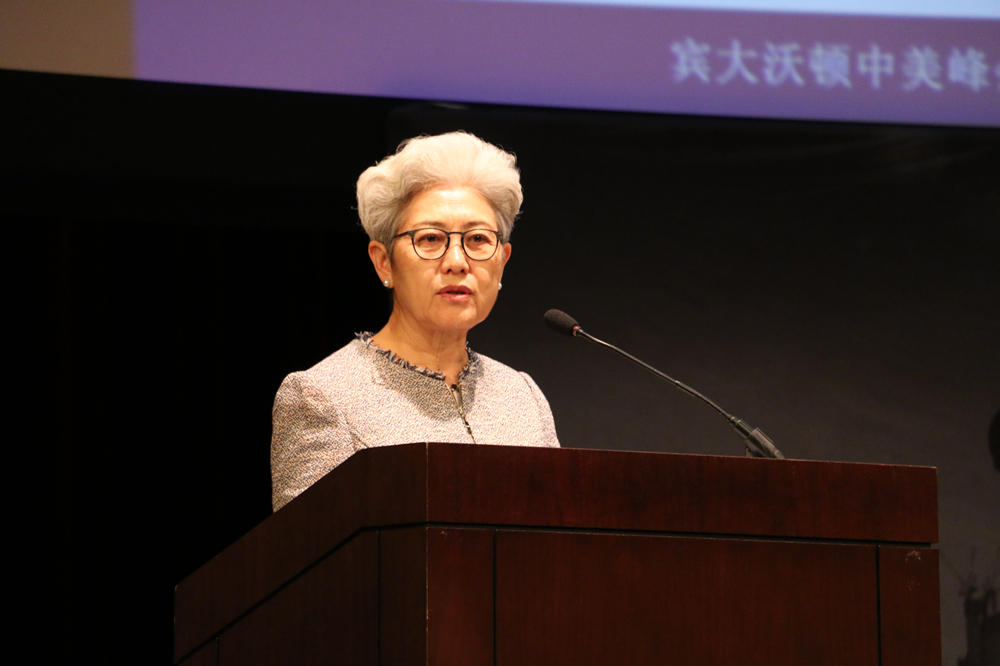 The world stage needs a "new script" and the new generation should be able to go beyond the traditional mindset of power politics and take a new approach to China-US relations, veteran diplomat Fu Ying said at the opening ceremony of the 2018 Penn Wharton China Summit in Philadelphia on Saturday.
The current vice-chairperson of the Foreign Affairs Committee of the National People's Congress of China, Fu said, "This year marks the 40th anniversary of reform and opening-up in China. The China-US relationship has also witnessed profound changes. Today, more than 300,000 students from China's mainland are studying at US universities, and nearly 3 million Chinese tourists travel to the US every year."
"The two countries have become important partners in many areas and both have benefited from cooperation with each other," Fu said.
"However, the relationship is not without difficulties. The US has become increasingly concerned about China, defining China as a strategic competitor that, presumably, challenges US interests and influence and erodes its security and prosperity," Fu said.
"Now the US is threatening tough trade measures against China, putting further strain on the relationship," she added.
"China is getting closer to the world's center stage which has never been empty. For centuries, different shows with the same old script have been performed here," Fu said. "The old script is mostly about power struggles which have not left the mankind with good memories."
"According to the old script of inevitable power struggles, some in the US have started to see China as a rival and a threat," she said, suggesting that China and the US should avoid the "Thucydides Trap".
"With a sense of equanimity, we are convinced that China-US cooperation is in the fundamental interest of both countries and conducive to world peace and development," she added.
Fu also reminded the audience what Chinese President Xi Jinping said recently at the Boao Forum for Asia. "He made it clear to the world that China's door of opening-up will not be closed and will only open even wider," she said.
"China's financial sector will be much more competitive, our capital markets will continue to enjoy healthy development, the building of a system of modern industries will be accelerated, our market environment will be greatly improved, and intellectual property rights will be effectively protected. In short, China will enter a new phase of opening-up," she added.
She stressed that all these policies and measures also provide inspiration to address the challenges in the China-US relationship. "China and the US have been important partners to each other over the years. It is in the interest of both sides to maintain this partnership and find mutually acceptable solutions to differences. We stand to gain working together. We would both lose should we enter into confrontation, be it for trade or for any other matters," she said.
"The world stage needs a 'new script'. The new generation should be able to go beyond the traditional mindsets of power politics and take a new approach," Fu told the audience at the University of Pennsylvania, most of whom were Chinese students studying in the US.
Hosted by the China Summit Foundation and the Penn Wharton China Center, and supported by the Chinese embassy and the state of Pennsylvania, the 2018 Penn Wharton China Summit was themed "Our Generation". Its aim is to explore how the current generation — endowed with robust innovation and an awakened sense of social responsibility — will strive to redefine China's future on its road toward sustainability and prosperity.
During the summit, entrepreneurs, experts, organizations and students from both countries joined discussions led by six industry-specific panels — arts and entertainment, real estate, technology, social responsibility, international relations and finance and economics.