NCPA opera being turned into film with new technology
By Chen Nan | China Daily | Updated: 2018-04-16 07:15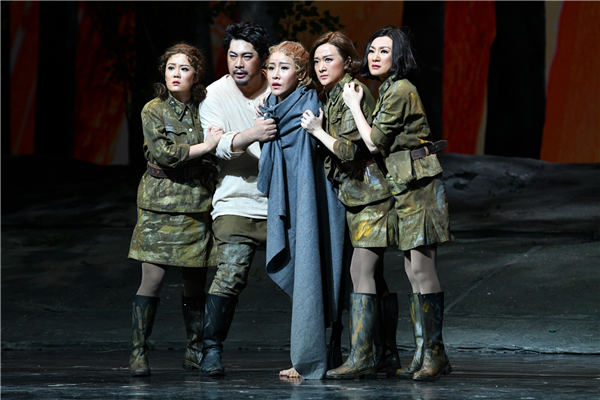 While The Dawns Here Are Quiet, an original opera production by the National Center for the Performing Arts, is being staged at the NCPA through Monday, a film production team from Shanghai Media Group is shooting an opera film by using new ultra high-definition 4K resolution based on it.
According to the opera's director Wang Xiaoying, The Dawns Here Are Quiet made its debut at the NCPA in 2015, and is again being staged at the Beijing venue since Friday - its fourth round of performances.
The opera, composed by Tang Jianping with libretto by Wan Fang, is based on Russian writer Boris Vasilyev's novel of the same title. It tells the story of five female soldiers fighting German troops during World War II.
The opera was first staged to mark the 70th anniversary of the end of the war.
Speaking about the film, Wang says: "This is a groundbreaking production that is part of the NCPA's opera film HD series. Those who have seen the live performances of opera singers, such as Liu Songhu and Zhang Yang, under the baton of Lyu Jia, can get a different experience."
Wang also says that unlike opera performances in theaters, the film production gives the opera a more "cinematic" look, which requires the actors to modify their performances, and look at the cameras rather than the conductors.
The costumes and stage sets have also been redone.
"We have made new wigs for actors, which look more natural," says Wang, adding that the NCPA initiated the opera film project in 2013 and of the 76 opera productions the NCPA has done since it opened in 2007, nearly 30 have been turned into opera films.
In 2017, the NCPA held an international opera film exhibition from August to October, which screened 14 such films in 10 cities, including Beijing, Shanghai and Shenzhen.
Teng Junjie, a renowned director from the Shanghai Media Group, is directing the latest opera film.
Teng is also the director of the first Chinese film using homegrown 3D technology to capture the Peking Opera, Farewell My Concubine, which premiered in Shanghai in May 2015.
The 3D adaptation, based on the classic love story between besieged warlord Xiang Yu and his beloved concubine Yu Ji, combines traditional Chinese culture and contemporary technology.
Speaking about the technology he is using for the film, Teng says 4K resolution is four times sharper than ordinary high definition, and is emerging as the new technology used by film companies worldwide. Also, unlike 3D, 4K technology does not require special glasses.
Speaking about the potential of the new medium, Teng, who was in New York as a team member when the Metropolitan Opera House broadcast its production of Mozart's opera, The Magic Flute, in 2007, says: "Theaters worldwide are using more alternative content, such as opera films, to appeal to customers. So, combining the latest technology with opera is a great way to attract audiences."