In Kiev, borscht, Maidan and a side trip to Chernobyl
Updated: 2018-04-16 08:46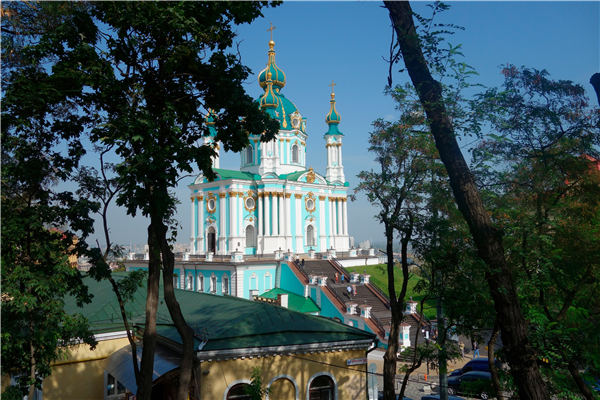 Through years of political upheaval and economic turmoil, Ukraine's capital city, Kiev, has remained a vibrant, engaging place to visit. For travelers, its food and culture rival the best of Europe at a fraction of the price.
Here's more on why this often overlooked destination should top your getaway list.
Landmarks
Maidan: This square was the site of deadly protests in 2014 that ushered in the country's pro-European revolution. It's now a bustling tourist hotspot surrounded by shops, restaurants, an evening fountain show, the towering Independence Monument and the Instagram-ready I Love Kyiv sign.
Saint Andrew's Church: This 18th-century Baroque stunner by Italian architect Bartolomeo Rastrelli is worth a visit. Afterward, head to the nearby Landscape Alley, a whimsical sculpture park and kids play area. I dare you not to snap a selfie with one of the massive mosaic creatures.
St Sophia's Cathedral: The gold- and green-domed UNESCO World Heritage Site offers an impressive collection of original 11th-century mosaics and frescoes.
The Motherland Monument: This tremendous 500-ton, 102-meter stainless-steel structure on the bank of the Dnieper River keeps a watchful eye over Kiev. The grand statue, a woman raising a shield in one hand a sword in the other, commemorates the Soviet Union's defeat of the Nazis during World War II. A Ukrainian war museum is located at its base.
Kiev cooking: borscht or bust
Puzata Hata: Get your fill of borscht, a hearty soup often made with beets or cabbage, and other Ukrainian dishes at this popular and cheap fast food chain. Don't skip the dessert line at this cafeteria-style gem. Sugar-sprinkled cherry pierogies, anyone?
Yaroslava: If looking to refuel between sites, stop by this historic Ukrainian restaurant and bakery for traditional treats including their famed cinnamon rolls. The cranberry cake is also worth a mention. Three yummy pastries and two fresh juices cost $3.
Chicken Kyiv: Where better to sample the famous dish than its namesake restaurant located near Maidan? You'll be transported to Soviet high society of the 1970s in the retro eatery, serving dozens of chicken dishes, inducing the famous Kiev with its breaded outside and herbed butter center. Dive into a lavish three courses for two for under $30.
Fashion forward finds
Corner Concept Store: Try on some wearable art by Ukrainian designers in this sparse, ultra-chic boutique.
Nadezhdina: Local designer Natella Nadezhdina's shop is lined with funky prints and feminine styles for a range of shapes and sizes.
Lesnaya market: If thrifting is your thing, head to Lesnaya flea market and journey between mountains of secondhand clothes and stalls of flowers, produce and knockoffs. The market is located outside Lisova metro station.
Atelier 1: If you can find the back-alley entrance of this industrial, underground concept store you'll be treated to an artsy mix of local and high-end brands like Comme des Garcons.
Chernobyl
Yes, you can visit the site of the world's worst nuclear accident, the Chernobyl disaster, which led to the evacuation of about 115,000 people. Armed with dosimeters, you'll traipse through abandoned towns, schools and an amusement park and check out the site of 1986 explosion that sent a radioactive cloud over Europe. Pripyat, a hastily evacuated city, was ravaged by looters and left as a modern-day ghost town.
Rest assured, though: The amount of radiation you'll receive on a Chernobyl tour - a day trip from Kiev - is less than your last dental X-ray.
Mezhyhirya
Marvel at the sprawling, opulent estate of ousted president Viktor Yanukovych located on Dnieper river, 24 kilometers north of Kiev. Many consider the impressive 142-hectare, once-secret, walled complex a sobering symbol of excess and corruption by the Ukrainian leader driven out during the 2014 protests.
You could lose an entire day wandering Mezhyhirya's manicured gardens, golf course and impressive classic car collection. Better to navigate the grounds with a hired golf cart ($5 per person.)
Getting around
You can hail a taxi, but be prepared to negotiate the rate. Ordering a cab by phone or online from an established company will ensure a better price.
Your best bet is the subway, which roars through Kiev's metro system with impressive efficiency. You can pick up single-ride tokens for around 15 US cents or buy multi-day passes.
ASSOCIATED PRESS
Related Stories