Bizav sector cashing in on China demand
By Wang Ying | China Daily | Updated: 2018-04-17 09:32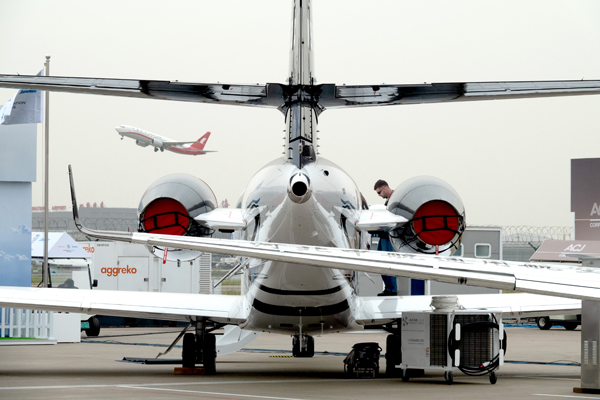 About 30 aircraft across the spectrum of business aircraft are being showcased in Shanghai during the annual three-day Asian Business Aviation Conference & Exhibition starting from Tuesday.
The stellar cast of more than 170 exhibitors and their latest products attest to China's great growth potential in the business aviation (bizav) market, analysts said.
"The Boeing Business Jet market in China is very strong. There are 30 Boeing Business Jet aircraft in the China market. We have seen tremendous success in China and are very optimistic about the future of business aviation in China," said Greg Laxton, president of Boeing Business Jets.
According to Laxton, Boeing Business Jets expects the Chinese market to grow at an increasingly rapid rate, which will generate more demand for ultra-large business jets as Chinese operators travel with larger teams and for greater distances.
Similarly, Airbus Corporate Jets notices the trend in China's bizav market requiring bigger and more modern aircraft in China. Around 20 Airbus Corporate Jets currently operate across China, compared with 30 in the Asia-Pacific region.
David Velupillai, marketing director of Airbus Corporate Jets, said China's business jet fleet grew by 30 percent over the past five years, and there are 328 business jets in service in China. But there are more than 320 billionaires in China at the moment, and every five days there will be one new billionaire, which points to greater business jet demand in China.
Dassault Aviation currently has more than $30 million worth of business jet components and parts in stock in China, enabling the company to quickly meet customer demand.
Eric Trappier, chairman and CEO of the French jet maker, said thanks to the growing support from the government, China's business aviation sector is growing steadily, and Dassault Aviation expects to benefit significantly from this trend.
For the past seven years, ABACE has developed into a must-attend event, not only for industry stakeholders in China and throughout the Asia-Pacific, but also for the global bizav community.
As an early member of ABACE, Donald Freeman Jr, chairman of the Freeman Co, said events like ABACE offer good opportunities to see products, and can educate people on what's happening in a particular industry.
"China clearly has incredible potential for all kinds of exhibitions," said Freeman.