McKinsey sees country topping world's autonomous car market by 2030
By Cheng Yu | China Daily | Updated: 2018-04-17 10:08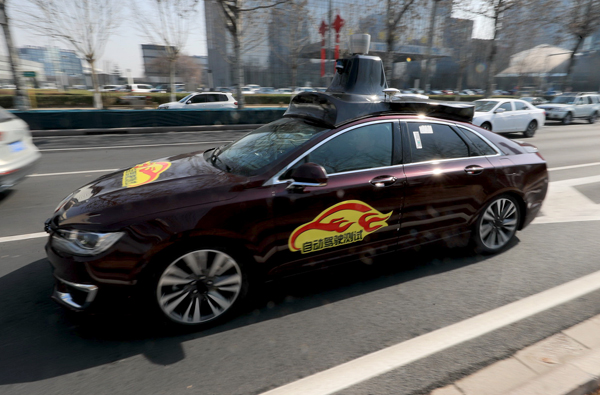 China will become the world's largest market for autonomous cars, with revenue from sales of such new cars and mobility services expected to exceed $500 billion by 2030, according to the latest report from global management consulting firm McKinsey & Company.
According to McKinsey, the market for autonomous vehicle is potentially "very huge" in China if settled. It predicted that by 2030, the total sales volume of autonomous vehicles is expected to hit $230 billion and autonomous vehicle-based services will generate a gross booking of around $260 billion.
The report came as the nation is playing an increasingly crucial role in the passenger vehicle market globally, with its shares in the global market rising from 9 percent in 2007 to 30 percent last year.
Currently in China, a large number of companies are beefing up efforts in developing technology concerning autonomous driving, including lidar, cameras, processors and software, as well as maps and location-based services.
Chinese autonomous vehicles technology companies have attracted a total of $7 billion venture funding between 2012 and 2017, which roughly equals to the investments in US startups in the same period.
"Current indicators suggest China is especially suited for widespread adoption of autonomous vehicles," said Ting Wu, partner in McKinsey's Shanghai office and co-author of the report.
The move also marks the launch of the McKinsey Center for Future Mobility in China, a think tank and adviser in the mobility industry. The center will provide perspectives on the future of the industry and deliver related client service.
"Compared with consumers in other countries, Chinese consumers are considering purchasing autonomous vehicles, especially in the premium segment. In fact, compared with consumers elsewhere, Chinese car buyers aggressively seek autonomous driving features," he added.
Chinese consumers surveyed have shown a willingness to pay as much as $4,600 as a premium for purchasing an autonomous vehicle, while customers from the US and Germany are willing to pay $3,900 and $2,900, respectively.
However, the study suggested that the driving environment for autonomous driving is more complicated than in other economies and it may take an additional two or three years for software algorithms to adapt to the country's traffic environment.
Christopher Thomas, partner in McKinsey's Beijing office and co-author of the report, pointed out that both China and other parts of the world require same technologies that autonomous driving need.
"Chinese companies need to make essential moves now including deciding where to play, developing a road map to access the tech stack and deciding the right alliance and ecosystem strategy," Thomas said.
He added that companies should also improve their strategic agility to update their approach as soon as new data come into the market.