Nation's image reflects its growing power
By Yu Sui | China Daily | Updated: 2018-04-19 07:36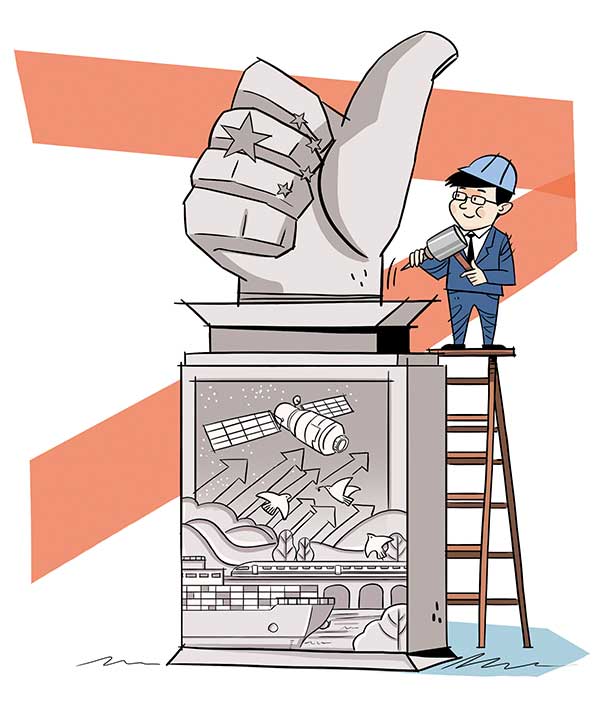 A Gallup World Affairs survey shows US citizens' positive feeling toward China has been consistently rising in recent years. According to Gallup's latest poll, 53 percent of the American respondents have a favorable view of China-the first time in three decades that more than 50 percent Americans have expressed such a view. Surveys conducted by other international organizations, think tanks and media outlets also show an increasing number of foreigners hold a favorable view of China.
That China's image worldwide is on the ascent despite some country's efforts to hype the "China threat" theory is impressive, to say the least.
A country's international image reflects its national power and spirit, and it is an important intangible asset of a sovereign state. Some media outlets are saying China's international image has greatly improved because of its growing global influence, economic development potential and its government's credibility.
The primary factor for the improvement of China's image is its commitment to the path of peaceful development and the increase in its national strength. Thanks to the four decades of reform and opening-up and the untiring efforts of the entire country, China has become the world's second-largest economy and a leading technological power with comprehensive national strength. In other words, China has become a prosperous and strong country.
China has never infringed upon other countries' interests to achieve its development goal, and its leaders have repeatedly made it clear that China will never "import" foreign countries' development model or "export" its model to other countries. China is confident, not arrogant.
Moreover, China's strategy of peaceful development, which is in accordance with its actual situation as well as development demand, has increased its credibility among foreigners. No wonder more and more people across the world are realizing the importance of President Xi Jinpings's philosophy of governance.
Today's China is confident about its road, theory, system and culture, and believes in the ancient Chinese philosophy of self-motivation and self-improvement. China follows the path of development through coordination, innovation, environmental protection, opening-up and sharing. And it puts emphasis on innovation in order to deepen reform. As Xi has said, China's deepening reform in an all-round way will not only provide a strong driving force for China's modernization, but also offer the world a new development opportunity.
China's diplomacy abides by the principle of peaceful development and win-win cooperation, and is focused on building a community of shared future for humankind, which has played a vital role in improving the country's image.
Besides, China has been actively participating in international affairs in recent years, for which it has received global praise. By vowing to build a community of shared future for humankind, launching the Belt and Road Initiative, co-establishing the Asian Infrastructure Investment Bank and the Silk Road Fund, China has provided "Chinese wisdom" to help solve the problems of global development. China has also made great efforts to build a healthy and stable framework for relations among major world powers while promoting good neighborliness and friendliness as well as deepening cooperation with developed countries, by establishing various levels of partnerships with more than 100 countries, regions and international organizations.
History will prove that building a community of shared future for humankind is in the common interest of all countries, and the Belt and Road Initiative is an effective channel to realize that goal.
The Chinese leaders have also vowed to safeguard peace, promote development, and deepen cooperation and seek win-win partnerships with other countries, drawing praise from the international community.
Still, some people are trying to distort China's image through the media. This may probably confuse people in some parts of the world for some time but such ploys will not work in the long run, and those trying to raise the specter of a "Thucydides trap" to predict a clash between China and the US will eventually prove wrong.
The author is a professor at the China Center for Contemporary World Studies.