Further opening up of manufacturing to promote global growth
By Miao Wei | China Daily | Updated: 2018-04-20 07:24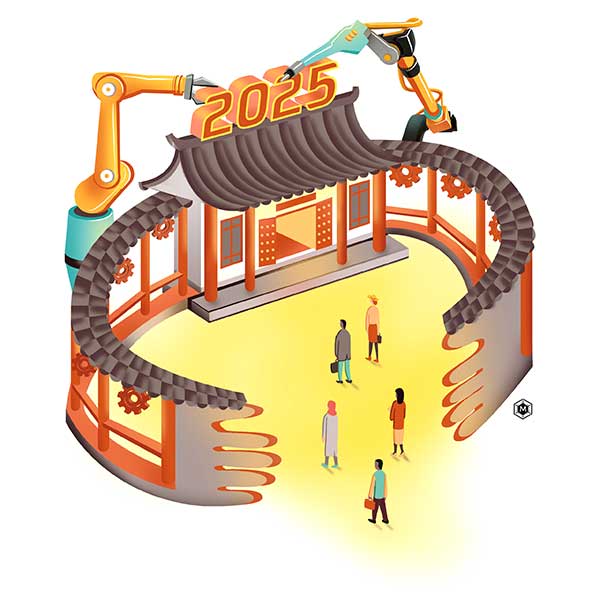 "A single tree cannot block the chilly wind," goes a European saying. Similarly, a Chinese proverb says: "Many hands make light work." It is becoming a global consensus to build a community of shared future for humankind based on openness and win-win cooperation.
This year 2018 is the first year after the 19th National Congress of the Communist Party of China, and also marks the 40th anniversary of China's reform and opening-up.
Throughout the past 40 years, China's manufacturing industry has remained committed to the philosophy of open development, the development path of "bringing in" and "going global", and opening up both at multilateral and regional levels. Therefore, the manufacturing sector has gradually shifted from policy-oriented to institutional opening-up, becoming an important part of the overall national opening-up process for win-win cooperation.
The past four decades also have witnessed profound changes in China. As far as manufacturing is concerned, China has become the leading country in the world in terms of production, export, foreign investment utilization and overseas investment. And China's manufacturing sector is gradually integrating into the global industry division of labor, contributing significantly to global economic growth.
In 2017, China's total import and export of goods reached $4.1 trillion, which is 783 times of that in 1978. For the manufacturing sector, the annual actual utilization of foreign capital reached $33.5 billion and direct overseas investment amounted to$120.1 billion, with mutually beneficial cooperation with foreign countries expanding in scope, level and approach. A framework of all-round opening-up of the manufacturing sector is also taking shape and continues to develop.
Scope of opening-up continues to increase
The manufacturing sector has remained a key area for foreign investment. In 2017, there were 4,986 newly established foreign-invested manufacturing enterprises in China, up 24.3 percent year-on-year. The recently revised Catalogue for the Guidance of Foreign Investment Industries (2017) has substantially reduced the access restrictions for foreign investment. In terms of manufacturing products, 22 of the 31 categories, 167 of the 179 subcategories, and 585 of the 609 branch-categories are fully open to foreign investment, accounting for 71 percent, 93.3 percent and 96.1 percent, respectively, of the categories.
In recent years, the momentum of Chinese enterprises' investment abroad has been growing vigorously. The manufacturing sector takes up more than one-third of the total overseas investment, covering areas such as textiles, food, machinery, automobile and electronics, and generating enormous economic returns for both sides.
For example, Geely acquired Volvo in 2010. After a series of strategic adjustments, Volvo sold more than 500,000 vehicles worldwide in 2015, a record high in its 88-year history, helping the company overcome its difficulties and regain business vitality. During the process, Geely also improved its management and established with Volvo a community of shared interests through collaboration and scale effect.
Areas of cooperation continue to expand
From special economic zones at the beginning to opening up coastal cities and central and western regions later, the opening-up process for China's manufacturing sector is becoming multi-dimensional, multi-level and wide-ranging. Since China established its first special economic zone in Shenzhen in 1980, capital, technologies and talents from different parts of the world have been attracted by the city, and later by the entire Chinese market of 9.6 million square kilometers.
As of today, many of the world's top 500 companies, such as Volkswagen, Siemens, Apple, Intel, Samsung, Toyota and Tata, have all established their presence across the eastern, central and western regions of China. Most of those companies have enjoyed good investment returns. In recent years, while continuing with the "bringing-in" strategy, the Chinese government has also encouraged domestic enterprises to "go global".
Driven by the Belt and Road Initiative, Chinese manufacturing companies are expanding their overseas investment to other regions besides Europe, North America and Southeast Asia, which have been their focus for decades. Many companies are exploring investment opportunities in countries along the Belt and Road and seeking cooperation on international capacity and equipment manufacturing.
China has signed relevant documents with more than 30 countries, including Kazakhstan and Malaysia, on international capacity cooperation for synergizing development plans and facilitating cooperative projects. As a result, a batch of major projects on iron and steel, non-ferrous metals, construction materials and other areas are being smoothly implemented to meet the urgent needs of the countries along the Belt and Road, and a number of industrial parks have been established overseas. These cooperation projects have boosted the industrialization and modernization process of the concerned countries.
Related Stories