Samsonite to extend retail presence in China
By Lin Wenjie in Hong Kong | China Daily | Updated: 2018-04-20 10:01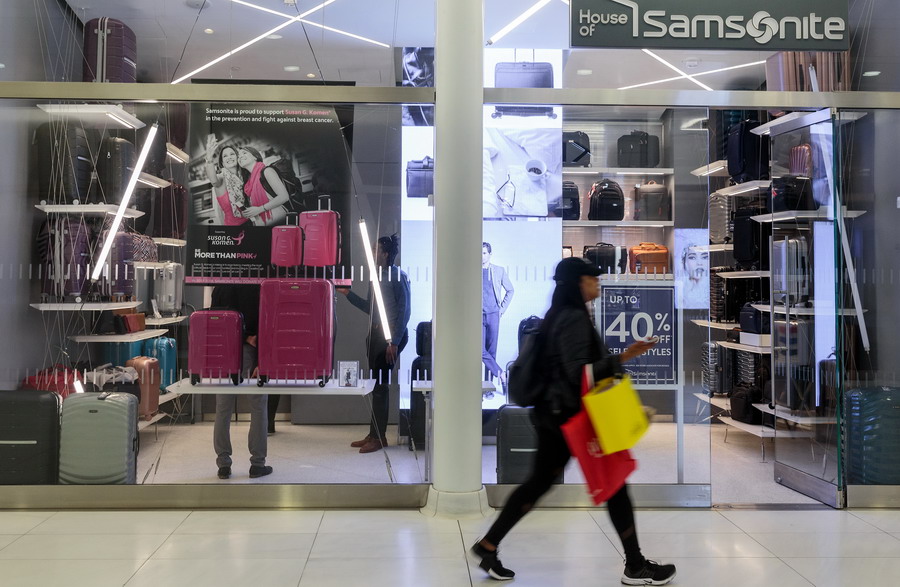 World's biggest luggage maker to grow and expand with additional stores and a new online platform
Flying 25 days every month, Ramesh Dungarmal Tainwala still looked energetic when he landed in Hong Kong for his company's annual financial results announcement. In charge of the world's largest luggage maker, the CEO of Samsonite International SA sees the Chinese mainland as his most important market, and is preparing to expand the company's retail presence there to increase direct-to-consumer sales.
The US-based company has three strategies to attract Chinese customers: launching its own e-commerce platform; revamping its physical stores to make them more attractive to female customers; and continuously adding brick-and-mortar stores.
As for online sales, Samsonite currently sells on third-party platforms such as Tmall and JD, which makes up for 20 percent of the total sales on the mainland and is the fastest growing sector. The company hopes to increase both online and offline sales through the launch of its own e-commerce platform, as the website will serve not only as a place to sell products, but also a platform to market the brands.
The physical stores, Tainwala says, tend to have a masculine character, and Samsonite is now trying to make the stores more attractive to female consumers, who are generally willing to pay more for their favorite items than men. It will, for example, arrange a rest area in the store for men to use while their wives or girlfriends shop. With the women-first strategy, Samsonite is also looking to boost sales of office gear and nontravel products to women, by introducing more handbags. Products designed for women currently account for less than 5 percent of the company's sales, and Samsonite aims to eventually boost that ratio to a quarter.
There will be 15 new stores opened under the brand Samsonite this year on the Chinese mainland, and 20 new stores will be set up under the brand Tumi, a luxury baggage maker that Samsonite acquired in 2016. In Hong Kong, four Samsonite brand stores and two Tumi stores will be opened this year.
Samsonite acquired Tumi and online retailer eBags in 2016 and 2017 respectively, enabling the company to achieve growth in the direct-to-consumer channel, and to expand its sales in non-travel product categories, an area in which the company has historically been underrepresented. In the next one or two years, the company will continue to consolidate the two brands, while slowing down the acquisition activities.
Net profit for Samsonite International S.A. for the year ended on Dec 31, 2017, increased by 30.7 percent to $334.3 million from $255.7 million in 2016. Net sales jumped 23.3 percent to a record $3.49 billion in 2017, but its spending on marketing increased 43.3 percent to$206 million for the year.
On the Chinese mainland, its net sales increased 11.9 percent compared with the previous year; excluding Tumi, the net sales grew by 7.2 percent, due to increased sales of the Samsonite and American Tourist brands. In Hong Kong, its net sales increased 34 percent compared with the previous year, driven by the addition of Tumi; excluding Tumi, net sales increased by 1.5 percent.
How's the business in the Chinese market now?
China is our second largest market, and it is the most important market in a sense, because it's growing very fast. What we do in China also influences Chinese customers' buying outside of China. Today, the Chinese business of our global business could be around 10 percent. But if we look at the sales made to the Chinese outside of China, that makes up for another 5 percent of the proceeds. So I would say our sales to the Chinese will almost make up for 15 percent of the revenue. That's a very meaningful part of our business.
What are the products frequently sought out by Chinese consumers?
Chinese consumers are more obsessed with the lightweight products than other customers, and they also appreciate fine detailed products. I think the main reason could be social media. People talk to each other - whether they like certain products or not - through social media, and Chinese women, in particular, spend much more time on social media than people in other countries.
How has Chinese people's consumption behavior changed?
I started to look after the Chinese business in 2004. At that time, the Chinese customers mainly bought for a brand. They didn't care about the product. There's a joke saying that if you want to sell to the Chinese, just make the logo bigger, or make it gold. But if you do that now, the Chinese will kick you. Today, they not only about the product, but also care about the material and country of origin. They get a lot more into details that consumers in more mature countries of America and Europe don't pay that much attention to.
Today, I see Chinese consumers are becoming more adventurous, and willing to try new things. They are more ready to buy products that are much bolder in design. Maybe that's a sign of the growing self-confidence. Thus, we will invite some guest designers in China to make products specifically for the Chinese customers.
What's your competitive advantage in the industry?
Our biggest advantage is our scale. We are the largest company in our category - eight to 10 times bigger than the closest competitor. If you look at the world's top three brands, No. 1 is Samsonite, No. 2 is American Tourist and No. 3 is Tumi. These brands are all parts of us. With the big scale, we can invest much more money in technology, research and development, new product development and marketing.
How does your previous experience affect your leadership?
I started my career as a salesman, and I still think of myself as a salesman. I spend the majority of my time in the store, watching our customers make the buy. That has been my leadership style in the company.
I also encourage my employees to take risks. If they want to achieve something big, they have to be ready to fail. Yesterday, I was sitting down with our designers and I said to them "show me your designs that did not work". I want them to design products of which one out of four must fail. When it fails, it means they are pushing the boundaries to design something new; if it doesn't fail, it means that they are always trying to design something very safe, and when everything is safe, we cannot win big. It's quite important for every leader in every company. To give comfort to your team, it's OK once in a while, but it will fail in the end. If you have bolder ideas about the business, you will have much more chances for success.
What is the most important characteristic that a leader should possess?
Leaders should not stop learning, because there's never an end. I cannot say that I know everything, and sometimes I am surprised to find that the young guy who just joined the work can teach me a lot, for the world is continuously evolving. I think the day a leader stops learning is the end of his leadership.
What do you do in your leisure time?
I'm a farmer in my heart, that's my true passion. I enjoy working on my farm when I have free time. I grow vegetables, fruits, flowers and rice - everything. As I am a vegetarian, I don't raise cattle, but I have animals as pets. However, I only visit my home once every month, for I fly almost 25 days a month for work, so my work is also my enjoyment in a sense.
Do you have any advice for the young generation today?
They should not hesitate to dream. I think there's no limitations and boundaries of what they are going to achieve. I see many young people tend to be somewhat cynical about life, like every time I start chatting with Hong Kong youngsters, they always tell me "property is so expensive in Hong Kong".
If it's really expensive, you need to figure out what to do about it. It's no use to grumble and complain, the property price doesn't change for you. That's what I want to tell them.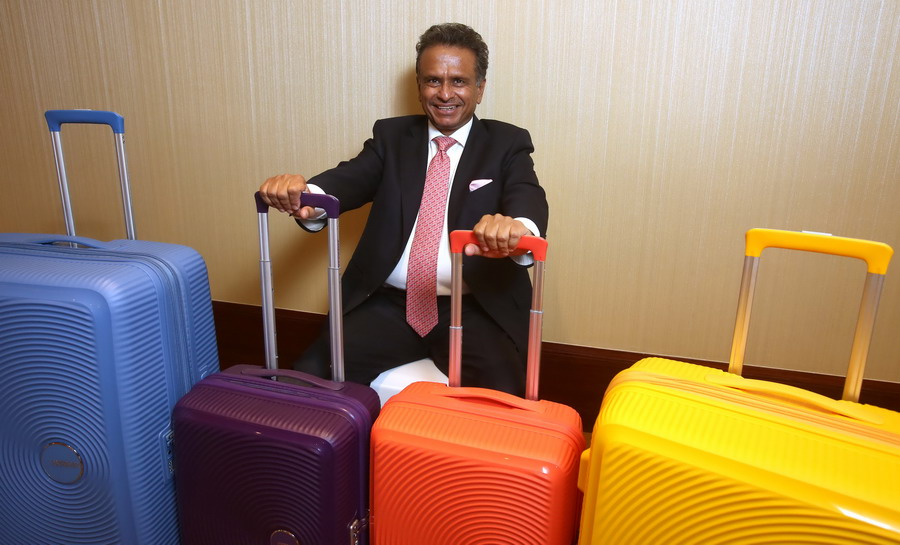 CV
Age: 58
Nationality: India
Career:
Oct 1, 2014 onward: CEO of Samsonite International SA
March 2014-Sept 2014: COO of Samsonite International SA
Jan 2007 onward: General manager of Samsonite group's Middle Eastern operation
1985-2008: Founder of Tainwala Chemicals & Plastics (India) Ltd
Education:
Master's degree in management studies, Birla Institute of Technology and Science, Pilani, India