Leshi TV unit gets new lease on life
By Fan Feifei | China Daily | Updated: 2018-04-20 11:13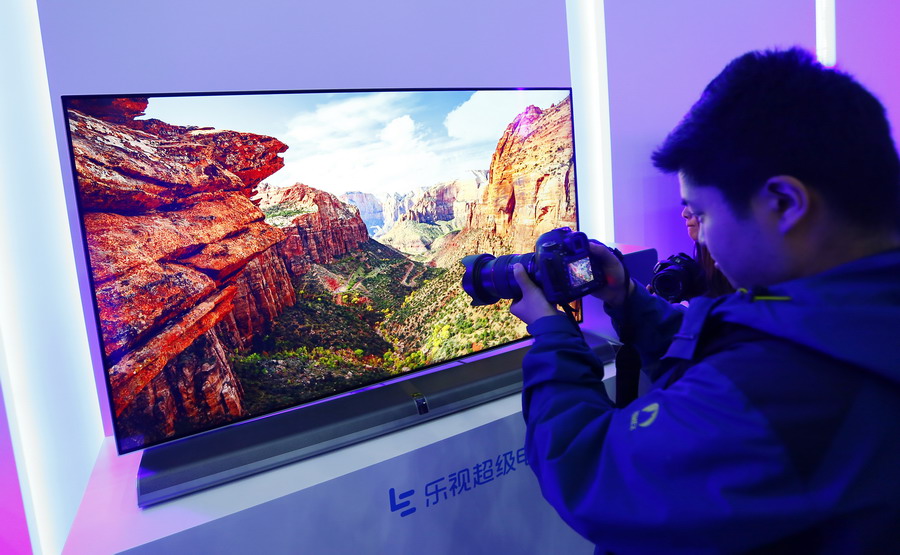 Tencent, JD, TCL and Suning invest $48m each in New Leshi Smart Home
Tencent Holdings Ltd, JD and TCL Corp are among the investors for New Leshi Smart Home, a television maker formerly known as the Leshi Zhixin Electronic Technology (Tianjin) Co Ltd, said the firm's controlling shareholder, Leshi Internet Information and Technology.
Affiliates of Tencent, JD, TCL and Suning Commerce Group Co Ltd have agreed to invest 300 million yuan ($48 million) each in Leshi's Tianjin unit, a smart TV manufacturer, Leshi said in a Shenzhen stock exchange filing on Wednesday.
The registered capital of the Tianjin unit will increase to 407.6 million yuan from 312.5 million yuan. Leshi's holding in New Leshi Smart Home will be diluted to 33.46 percent from 40.31 percent after the capital increase, but it will remain the biggest shareholder, according to the filing.
The firm's new investors-Tencent, JD, TCL and Suning - will each hold 2.56 percent stakes, the filing said.
Leshi believes the new funds will help with a capital shortage at New Leshi Smart Home and boost operations. This is not the first time for Chinese technology giants to rescue the debt-laden internet company. In March, Tencent partnered with Leshi, and allowed Leshi TV to distribute TV and video contents whose copyrights were owned by Tencent, and to share the membership and advertisement fees generated from the contents.
Industry insiders pointed out that the partnership may help Tencent to gain members from Leshi.
Earlier this month, Leshi announced New Leshi Smart Home plans to seek a funding both in cash and for debt of no more than 3 billion yuan, with the firm's valuation totaled 9 billion yuan.
"Introducing new investors will help inject new vitality for Leshi's smart TV business. Meanwhile, Leshi's right of speech in New Leshi Smart Home will be lowered greatly in the future," said Shen Meng, a director of boutique investment bank Chanson& Co.
Shen said Leshi has some value in TV design and manufacturing, and the new investors such as Tencent, JD and Suning have mastered abundant content resources, they need more terminal devices to broadcast their contents.
Leshi's parent firm LeEco started as a video-streaming service provider, akin to Netflix Inc, but grew rapidly into a tech heavyweight with a presence in smartphones, TVs, cloud computing, sports and electric cars. But it ran into a cash crunch in late 2016 after expanding too fast.
Leshi reported a net loss of $1.84 billion last year, a sharp drop of 2,192 percent compared with the previous year. It attributed its operational loss to the financial strain of related parties, liquidity issues and rising financing costs.
LeEco's founder Jia Yueting has resigned from all his positions at Leshi due to unpaid debts and the financial crisis, and is now focusing on LeE-co's automobile unit and struggling to raise capital to fund a US-based electric car startup Faraday Future.
Related Stories