US students show 'love' of China
chinadaily.com.cn | Updated: 2018-04-23 04:27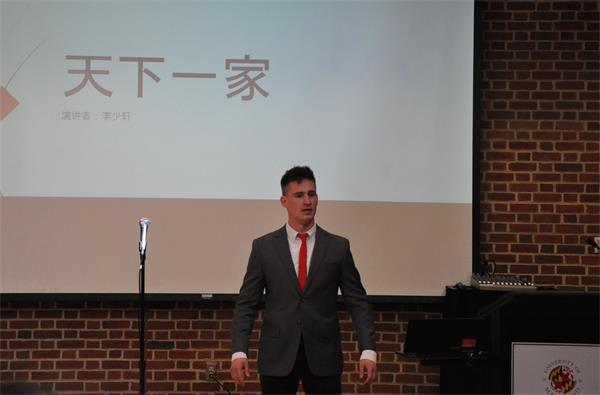 Fifteen American college students from eight different states competed in the 17th college-level Chinese Bridge Language Competition at the University of Maryland in College Park on Saturday.
Student contestants delivered speeches in Mandarin on the theme of "shared values, one community," and demonstrated their creativity through a series of talent shows, featuring Sichuan Opera, tai chi dance, cross talk, calligraphy and traditional Chinese music.
Raphael Angieri, a senior from Georgetown University majoring in culture and politics, won first place. In his speech, Angieri recalled his first time in China living with a host family in Beijing six years ago.
He brought up fond memories of chats between him and his host dad, which ranged from Confucius' thoughts to modern civil education, from ancient poetry to the popular TV show Voice of China.
"My host dad was just an average Chinese," Angieri recalled. "He didn't even attend university. But he studied and valued traditional Chinese culture and cared about current affairs, which had a huge impact on me."
Katherine Dionne, a freshman from the University of South Carolina, was one of the second-place winners. Her tai chi dance performance amazed the audience, as well as the judges.
"On the face of our culture a lot of things can be different. But when you get down to it, everyone is still just people and very friendly when you get to know them," Dionne said.
Dionne's parents, who were with their daughter at the competition, said they were very proud and supportive of Dionne's pursuit of Chinese.
"We want to thank the Confucius Institute for having this program and allowing people like Katie to participate and express their creativity in another culture," Dionne's dad said.
William Ennals, a senior at the University of Maryland, also participated in the competition and recited a poem by famous poet Yu Guangzhong in three different dialects, which he said he learned from his Chinese friends.
"My relationships with my Chinese friends have always been about exchanging cultures," Ennals said. He has been bridging Chinese and American culture, especially African-American culture, by introducing Chinese rap music on Youtube to his American peers.
Alonso Arteaga from the University of Idaho also followed Chinese hip-hop culture. He sang a Chinese pop song that included a large section of rap.
"The song talks about people in China moving to Beijing with the dream of making something of themselves. It just reminds me of America too when you are first or second generation, you work hard and try to be better," Arteaga explained.
The competition invited Chinese language experts worldwide to serve as judges, including Arnaud Arscangul, a sinologist and associate professor of Chinese language at INALCO, a language institute in Paris.
"Many of the speeches demonstrated the young generations' global vision and international mindset," said Wendy Xiong, an associate professor of World Language and Culture at Winston Salem State University in North Carolina, who also served as a judge.
The Chinese Bridge Language Competition is a series of worldwide competitions organized by Confucius Institute Headquarters to galvanize global youth's interest in Chinese language and culture. Winners of regional competitions will compete in the final round this fall in Beijing.
"I am not alone," Angieri said after winning the top prize. "Obviously there are a lot of students here with me who show their love for China and their deep understanding of Chinese culture."
Yian Ke in Washington contributed to this story.