Grabbing profit opportunity in claw machines
By Chen Meiling | China Daily | Updated: 2018-04-23 07:03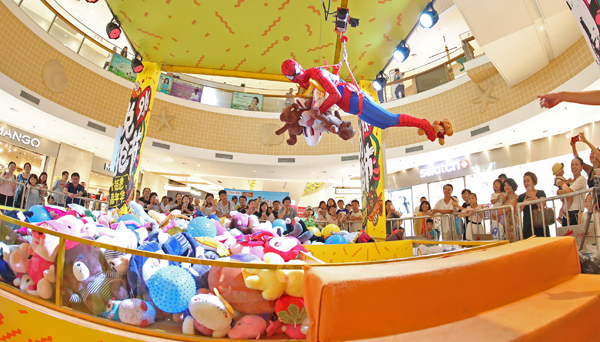 Young people in the 18-38 age-group, especially women, constitute about 60 percent of the players of the doll-grab game, said Long Ze, who works at the Beijing branch of Guangzhou Star Nigel Trade Co Ltd, one of the Chinese companies that operate doll-grabber machines in China.
Founded in 2008, the company now sells about 9,000 machines every year worldwide, including Southeast Asia and Europe. It also authorizes agencies to use its brand or cooperates with shopping malls directly, according to Long.
Star Nigel Trade's revenue through machine sales, franchises and brand royalties was around 300 million yuan last year.
That is made possible by the fact that a claw doll grabber machine's price could range from 5,400 yuan to 9,000 yuan, while the cost could be more than 3,000 yuan, Long said.
Such machines can be bought even online these days, often at much cheaper prices. For instance, Taobao, China's largest online marketplace from the Alibaba stable, features advertisements that highlight prices of around 1,000 yuan per machine.
"The industry has very low entry barriers," said Cao Lei, who, along with several friends, invested around 30,000 yuan in 2014 to set up four claw toy grabber machines at a theme park in Shanghai.
"This business didn't demand much time from us. We hired some staff to take care of the machines. That's about it."
Cao didn't need to pay any rent and electricity charges to the theme park. Worker wages and maintenance cost 5,000 yuan per month, to cover tasks like filling dolls in empty niches and dealing with machine breakdowns, he said.
Dolls cost about 1,000 yuan. Cao did not provide details like net profit figures, but said a player typically wins a doll costing 12 yuan after 15 attempts. Each machine was believed to have been programmed in such a way that it gave away only two dolls per month to players.
Cao's business was ejected from the theme park within three months as the latter wanted to set up its own machines. The theme park broke the one-year contract it had signed with Cao.
Long said some doll grabber machines are based on probability whose success rate can be fixed in advance, in order to control costs.
Other type of machines are technology-based, which allow players to claw dolls through sheer skill.
"Probability-based machines will disappear from the market one day," Long said. "Compared with losing too many dolls, we are more afraid of customers not winning any dolls at all because they may never come back to play again."
The emerging business segment faces other concerns. Some agents may stuff the machines with cheap pirated dolls that infringe copyrights. If caught, damages could be thousands of yuan.
"Though the business appears easy to enter, it's actually very hard to succeed over the long term," Long said.
Given the high frequency of their usage and high wear and tear, doll grabber machines need to be repaired or refurbished every three to five years.
Rental at modern public spaces tend to be high as well-1 square meter of commercial space in Beijing could cost more than 1,000 yuan per month. A machine may need 0.6 sq m to 2 sq m.
But some market insiders are pinning hopes on China's consumption upgrade and innovation.
New types of claw machines allow users to operate them using mobile apps. Others dish out expensive ware such as premium smartphones instead of dolls. But this segment faces potential regulatory risk.
"More professional operators will survive in the future. Artificial intelligence technologies such as virtual reality and augmented reality may be integrated into claw machines to improve user experience," Long said.