Life and times of a magical realist
By Mei Jia | China Daily | Updated: 2018-04-23 08:21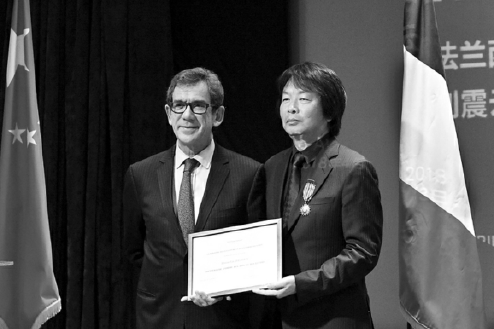 Chinese writer Liu Zhenyun has been honored with France's Knight of the Order of Arts and Letters for his contribution to world literature. Mei Jia reports.
Upon receiving the award of Knight of the Order of Arts and Letters on April 13 at the Institut Francais in Beijing, Liu Zhenyun says what he did was just sit beside "small potatoes", the unimportant people he listened to in times of need, and wrote about them because nobody else would listen to their stories.
He always uses the metaphor that it is not him who writes and creates his characters. He just listens to them as they talked to him in their own words.
"People say that my writing is full of humor. But I say I might be the least humorous writer in China - it's just because my characters live in this humorous world," Liu says.
"I just listened. And by translating, the foreign readers listened to them. And by listening, what comes out is a strength to do things, to change things," he added.
Liu, born in 1958 in Yanjin county in Henan province, graduated from Peking University's Department of Chinese Language and Literature. Typical of established Chinese writers born in the 1950s, his works have been frequently adapted into films, with many of them directed by Feng Xiaogang.
The French ambassador to China, Jean-Maurice Ripert, presented the medal and accompanying certificate to Liu at a ceremony in the capital's French cultural center.
"We want to honor your talented works, your contribution to world literature, and continued efforts in promoting cultural exchanges between France and China," Ripert says.
The ambassador gave a brief history of Liu's major works, saying Liu had published six books in French and had titles translated into 20 other languages.
Someone To Talk To, a Mao Dun Literature Prize-winning novel, has sold more than 2.2 million copies; and I Did Not Kill My Husband, has also been widely read around the world.
"Your view of human nature is full of sarcasm, tenderness and reflection," Ripert says.
Acknowledging his love for and the influence of French literature, art and philosophy on Liu's work, Ripert says that the Sino-French friendship had been built on respect for each other's history, culture and language.
Liu says that one of the features of French literature is that the observations of many French writers remain unchanged.
"What I saw in Paris is almost what Balzac and Victor Hugo saw. Whereas, Chinese writers like the readers to see and notice the changes in the landscape, as well as in society," he says.