Call to save Iran nuclear deal as Trump and Macron get down to business
China Daily | Updated: 2018-04-25 07:16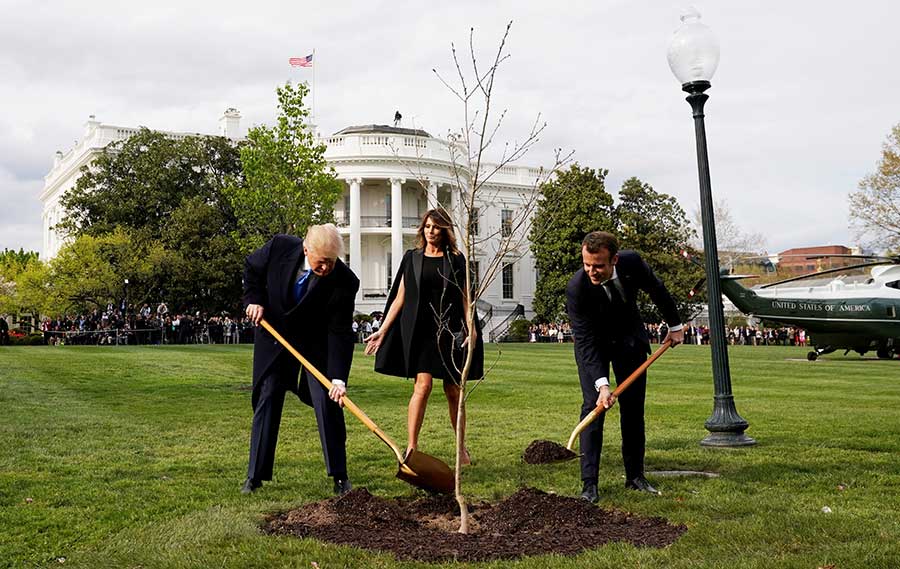 GENEVA-Russia on Tuesday urged a United Nations nuclear disarmament forum to show its support for the "fragile" Iran nuclear accord by signing onto a statement, co-written by China, backing the deal.
The head of the arms control unit at Russia's Foreign Ministry, Vladimir Yermakov, called on UN members to support the landmark pact with Iran to not "keep silence in hope that the situation will somehow blow over".
Addressing the preliminary review meeting of the Nuclear Non-Proliferation Treaty, Yermakov described the 2015 Iran nuclear deal as "quite a fragile compromise".
US President Donald Trump has fiercely criticized the deal. If he refuses to waive sanctions against Teheran by a May 12 deadline, the accord may unravel.
Russia and China, both supporters of the pact known as the Joint Comprehensive Action Plan, have drafted a statement affirming their "unwavering support for the comprehensive and effective implementation" of the deal.
Yermakov urged all nations at the UN meeting to sign on.
"We believe there is a demand for such a collective message by the (meeting) and hope that the document will find broad support," he said.
The Russian official then took a thinly veiled shot at Trump's call to renegotiate the JCPOA in hopes of getting better terms for the US.
"Any attempts to amend (the) text for someone's benefit will inevitably... have powerful negative consequences for regional global stability and security," Yermakov said.
His comments came after Russian Foreign Minister Sergei Lavrov vowed in Beijing on Monday that China and Russia would block any attempts to "sabotage" the Iran nuclear agreement.
Trump is meeting with his French counterpart Emmanuel Macron, and on Tuesday they were expected to discuss the Iran accord and international trade.
Before getting the red-carpet treatment at the White House on Monday-payback for wooing Trump with military parades and an Eiffel Tower dinner in Paris in July-Macron took an impromptu stroll to the Lincoln Memorial with his wife Brigitte.
Hailing the "very important" visit, Macron then rolled into the West Wing from Lafayette Square-named after the storied French general who fought in America's war for independence-beneath dozens of fluttering tricolor French flags and before a full US military color guard.
But Iran is likely to loom large over the trip.
"This visit is very important in our current context, with so many uncertainties, troubles and at times threats," Macron said in remarks as he arrived in Washington.
On a personal level, despite sharp differences in political background, age and lifestyle, the presidents seem to have struck up a bond as fellow outsiders who outwitted the establishment to gain power.
On Wednesday, centrist leader Macron will demonstrate his English-language skills-a rarity for a French president-in an address to a joint session of Congress.
AFP-REUTERS