Paralympic veteran finds it hard to give up competing
By LI YINGXUE | China Daily | Updated: 2018-04-27 07:38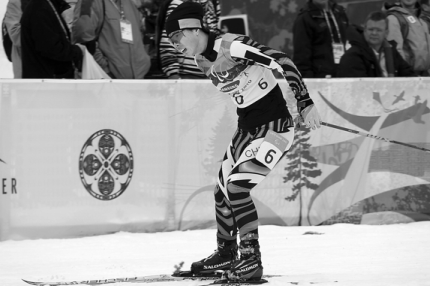 Paralympic veteran finds it hard to give up competing
Eight years ago, Peng Yuanyuan was the flag-bearer of Team China at the closing ceremony of the 2010 Vancouver Paralympic Winter Games, having finished fifth in the women's 5 km classic style standing event-China's best Winter Paralympic performance then.
After an eight-year absence from the Paralympic Winter Games, Peng, 31, was back with the flag in her hand-the Paralympic veteran led the Chinese delegation into the stadium at the opening ceremony of the Pyeongchang Paralympic Winter Games on March 3, in South Korea.
"I'm very proud to be the flag-bearer. It's such an honor," says Peng. "This is my third Paralympics."
Peng, who has a disability in her right arm, was first recruited for the Heilongjiang team for the sprint at the age of 17. And, several months later, she was selected for the winter games team to train for cross-country skiing.
"We had just five athletes in 2005, and we developed our skills step by step," says Peng.
Peng and her teammates did not have many opportunities then to compete abroad.
"But each time we joined a competition abroad we learned from the athletes there."
Being an athlete is hard work.
Each day, Peng would get up at 6 am to do exercises, and after breakfast she had a two-and-half-hour training session, followed by another two-hour afternoon session.
Sometimes she had to do extra training in the evening.
Cross-country skiing needs athletes to be training and competing in the snow, with only thin sportswear.
"When we trained on the ski course, the temperature used to be between minus 20 and 30. And there was one time when the temperature was-48 C," says Peng.
"When we were skiing, we didn't feel the cold," says Peng. "But sometimes after training, my hair would be frozen."
Peng says even though it (the training) was hard, she had to overcome it. "It was not only me that faced this situation. Every athlete has been there."
Peng first took part in the Paralympic Winter Games in 2006. And in 2010 she gave her best performance at the Vancouver Games, for which she was called "the single arm heroine".
Related Stories