New sectors thrive as Tanzania diversifies
By Lucie Morangi | China Daily Europe | Updated: 2018-05-07 08:50
Chinese investment helps African nation through opportunities in manufacturing as well as services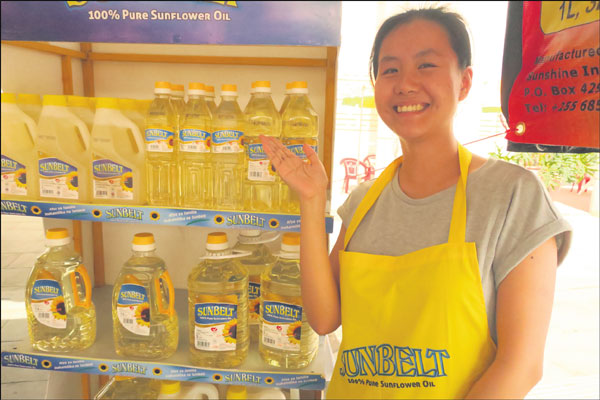 As African countries diversify their economies away from primary sectors such as mining, Chinese private entrepreneurs are finding opportunities in the budding manufacturing and service sectors, helping speed up the continent's economic growth.
In Tanzania, Chinese entrepreneurs are increasingly expanding the two sectors, in line with the government's efforts to modernize infrastructure and improve the investment environment.
Low consumer spending and poor integration with regional markets are hampering expansion strategies, but this hasn't curbed investors' ambitions.
Instead, Sunshine Group Ltd invested $10 million to build a factory in Dodoma. Although the group entered the market in 2012, it wasn't until two years later that it decided to create the manufacturing unit.
"We were trading in agricultural products, such as sesame seeds, cashew nuts and cotton, for export," says Zheng Mingru, the marketing director. "But we identified a market niche. The area was flush with sunflower seeds but had no industrial production - yet 80 percent of edible oil in the country is imported from south Asian countries."
Despite purchasing seeds from local farmers, the company has never reached full oil production capacity. Last year was particularly difficult due to drought, so the company only managed to acquire 6,000 metric tons of seeds against a potential capacity of 30,000 tons.
"The agricultural infrastructure here is poor and farming is highly dependent on the weather. This is not sustainable," says Zheng.
In addition, the volume of sales continues to be depressed due to low consumer spending. The company specializes in premium oil and sells at least 200 tons monthly.
"This is low," admits Zheng, saying that pricing is a factor, despite the company spending more than half a million dollars on marketing in the first year of operation. It recently launched a less-refined product in order to compete effectively in the market. However, palm oil continues to have a larger market share so the company is planning to produce this as well. It is optimistic that this will scale up its market share from the current 10 percent to 30 percent in the next three years.
High competition has discouraged the company from entering the Kenyan market. Instead, it plans to move into the Republic of Congo and Zambia.
"We are optimistic of these markets and we are already developing distribution channels," says Zheng. The company has three branches in Tanzania and employs more than 300 local people.
Meanwhile, StarTimes Ltd, a Chinese technology company and media provider, has managed to overcome border barriers and is currently operating in many African countries, with nearly 10 million subscribers. In Tanzania it has at least a million subscribers.
The company says it has transformed the sector with its strategy of going cheap and has played a big role in the government's efforts to implement the digital migration. According to a McKinsey report, the company has transformed television viewing from an occasional luxury to a daily routine for many Tanzanians, thereby capturing the growing middle class.
The company also continues to invest in innovation and has recently launched branded television sets that have built-in decoders. According to the company, the TVs are able to receive both satellite and terrestrial television signals without connecting to an external set-top box. They are retailing at between $220 to $330, depending on the size.
The new technology is designed to save up to 50 percent of power. Tanzania has been facing chronic power shortages over the past decade due to reliance on drought-vunerable hydro-power dams. About 40 percent of the population has access to electricity.
Nevertheless, the increased investments of Chinese companies in Tanzania have resulted in an upsurge in demand for learning about China.
"The strengthened relationship between China and Tanzania has raised the interest of locals in exploring the Asian country's economic success. We have therefore witnessed an upsurge in demand," says Lin Ru, the managing director of Soma China Ltd, an education agency based in Dar es Salaam.
Lin says Chinese universities are quickly adapting to the needs of overseas students and are offering popular programs in English. The agency, which represents more than 20 Chinese universities, has linked local students pursuing programs in computer science, gas and petroleum, clinical medicine and business management in China so that they can quickly secure employment locally.
"There are more than 200 Chinese businesses operating in Tanzania and they have a high affinity to graduates who can speak Chinese and understand the Chinese job culture. We create the perfect fit," says Lin.
However, cost is a hindering factor. "To bridge this, several universities in China are offering scholarship programs," says Lin. The number of scholarships available for doctoral and master's degrees have increased to at least 30 annually.
There are at least five other agencies with similar offerings, but Lin says she has positioned herself as a reliable business.
"We do not over-promise what we can do for our clients and that is why our business is growing, especially by word of mouth. We aim not only to be the best but also to be the right one."
She hopes this year will see uptake increase by at least 50 percent. The business, as with others, has given 90 percent of its employment opportunities to locals.
lucymorangi@chinadaily.com.cn