Cargill committed to meeting Chinese people's food security needs
By Zhong Nan | China Daily | Updated: 2018-05-08 09:41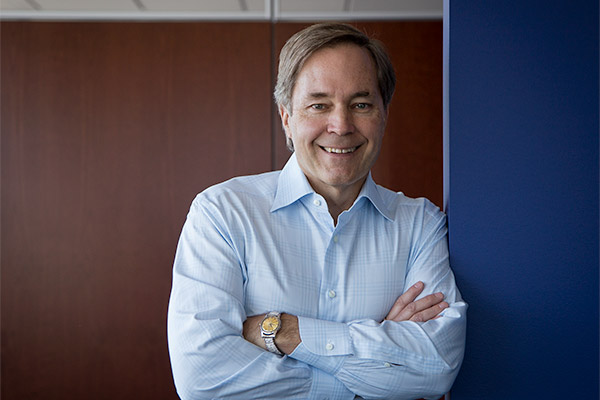 Editor's Note: This year marks the 40th anniversary of China's reform and opening-up. China Daily interviewed top executives of well-known multinational companies for their views on the country's socioeconomic development.
Please use three words to describe China's changes in the past 40 years.
Prosperity, stability and engaging.
What are the biggest achievements made in China since the introduction of the reform and opening-up policy 40 years ago?
One of the biggest impacts of economic reform in China over the past 40 years has been the ability of China to lift hundreds of millions of people out of poverty. This remarkable achievement has benefited not only China, but its many trading partners, as well.
China has become one of the largest economies in the world. Its industrial base is now supplying the world with goods and this has created unbounded opportunities for the Chinese people.
In my role at Cargill, I travel to China every year and every time I am deeply impressed with the great changes taking place in many areas, and with the level of vitality and energy that I observe in the whole society.
The growth of the economy has also presented opportunities for the world to invest in China.
What's the biggest challenge China faces today and how can the country overcome it?
Global climate change is a challenge not only for China, but for the entire world. China has been a leader in renewable energy, which is critical to combating these problems. It has also made reducing pollution a major priority.
How has your company benefited from the reform and opening-up policy?
As a major investor in China's food sector, Cargill has been able to expand rapidly in China as a result of the reform and opening-up policy. Today, Cargill has more than 45 facilities and 10,000 employees in China. We have doubled our investments in China over the past seven years and expect to double them again in the next seven years in the areas of food supply chain, the animal protein business, food ingredients, edible oils and animal nutrition to service our Chinese customers.
We have been able to bring our best technology to China to help Chinese farmers and food manufacturers. We are helping farmers be more productive, increase yields and earn better incomes. We have helped food manufacturers reduce costs, create new products and improve nutrition.
It has also provided opportunities for Cargill to connect farmers from around the world, including the US, with the Chinese market. China is now the second largest market for US food and agriculture products. So US crop and livestock growers have benefited by helping China meet its growing protein, meat and crops needs.
Has competition intensified between your company and Chinese companies?
We view Chinese companies not only as competitors, but also as partners, customers and suppliers. We work together to meet the food security needs of the Chinese people. Competition is helpful by driving innovation, improving quality, raising food-safety standards and keeping prices low for consumers.
How do you view China's role in the world today?
China has become a leading voice in the area of global trade liberalization. Open trade can certainly bring growth opportunities for market players like us, but also benefits China, other participating countries and consumers in the long run.
The Belt and Road Initiative showcases China's leadership in infrastructure projects and global investments, which will create stronger economic ties around the world and increase growth for China and others. We know that is going to create stronger economic ties and increase growth.
Could China's experiences and practices be used to solve global problems?
China is a country with a very large population but limited arable land. It has always been a challenge to provide adequate nutrition to its people. The Chinese government has made some very important moves in food security. The decision was made that China could rely on the global soybean crop to meet its needs more efficiently than grow soybeans domestically. Thus, land is freed up to grow other crops that offer China a competitive advantage and import more soybeans. A vibrant international trade flow of food and grains has helped China to achieve food security and raise the living standard of its citizens.
What measures are needed if China wants to deepen reforms?
We are looking for more open trade for food between the two countries. This could be most efficiently accomplished by harmonization of food standards and agreeing to equivalency of food-safety standards.
This would be particularly applicable to protein and meat imports into China from the US. Chinese consumers, as they move up the economic ladder, are demanding more protein and meat in their diets. The US farmers are uniquely positioned to supply safe, sustainable, nutritious beef, poultry and pork to Chinese consumers in a cost-effective manner.
What is the most unforgettable experience you have had in China?
Visiting the Terracotta Warriors in Xi'an was a truly memorable experience for me. I was amazed that after so many centuries, these incredible statues remain so vivid and lifelike. I was quite moved by them and took many pictures.
Apart from economic development, what progress in other fields have you witnessed in China in the past 40 years?
China has become a leader in the areas of education and in healthcare. In education, it is truly a remarkable achievement that all people, regardless of economic status, have access to education.
In healthcare, China made the commitment to provide healthcare coverage to all of its citizens and has worked toward achieving that goal with a remarkable speed.
What will be the country's "calling card" in the coming years?
Harmony and opportunity for all.
CV
Name: David MacLennan
Age: 57
Nationality: United States
Career:
2015: Chairman of the board, President & CEO, Cargill
2013: President & CEO, Cargill
2011: President & Chief Operating Officer, Cargill
2008: CFO, member of Board of Directors, Cargill
2002-08: Various leadership positions, Cargill
2000: President of Fixed Income Capital Markets, US Bancorp Piper Jaffray
1991-2000: Various responsibilities at Cargill, including director and CFO of Cargill Financial Services Corporation
1982-91: Various positions at Goldberg Bros; member of the Chicago Board of Trade and the Chicago Options Exchange
Education:
June 1981: Bachelor's degree in English from Amherst College
June 1988: MBA in finance from the University of Chicago
Family:
Married with three children