Hengqin free trade zone targets Portuguese-speaking countries
By Zheng Caixiong in Zhuhai, Guangdong | China Daily | Updated: 2018-05-09 09:23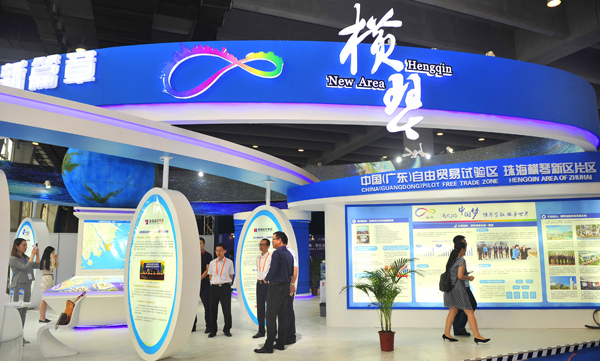 Editor's Note: South China's Guangdong province in April celebrated the third anniversary of the establishment of three pilot free trade zones-Nansha in Guangzhou, Qianhai in Shenzhen and Hengqin in Zhuhai, which represent the determination of the central authorities and Guangdong to open wider to the outside world and boost the development of the Guangdong-Hong Kong-Macao Greater Bay Area.
Govt promises to further improve local investment environment in the years to come
The Hengqin New Area in Zhuhai, Guangdong province, will become a pilot area for economic cooperation between China and Portuguese-speaking countries in the coming years.
Hengqin island is at the mouth of the Pearl River, adjacent to the Macao Special Administrative Region. Its location and status as a pilot free trade zone make it a natural choice for a program to attract investment from and expand trade with Portuguese-speaking countries, said Yang Chuan, director of the administrative committee of the Hengqin New Area.
Hengqin is one of the three pilot free trade zones in Guangdong. The other two are Qianhai in Shenzhen and Nansha in Guangzhou.
Construction of the 244,000-square-meter China-Latin America Cooperative Industrial Park has been completed in Hengqin, at a cost of more than 2.5 billion yuan ($393 million), Yang said.
Contracts have been signed for 15 projects from Latin American nations to be established in the park, the first of its kind in the mainland.
Hengqin signed 73 deals valued at 3.25 billion yuan with Latin American countries during the Sino-Latin American Fair held in Hengqin last November.
"Meanwhile, more than 3,000 kinds of imported speciality products from Latin American countries and other Portuguese-speaking countries are displayed and sold in the park's sales centers, which have especially been built to help them increase their presence in Guangdong and the Chinese mainland markets," Yang said.
Hengqin is also planning to expand its cooperation with Hong Kong and Macao to jointly develop logistics, tourism, finance, leisure, and cross-border e-commerce industries in the years ahead, he added.
To achieve the goal, the zone has promised to further improve Hengqin's investment environment in the years to come.
A new underground railway station, linking Hengqin to the Guangzhou-Zhuhai inter-city railway line, will start service next year, connecting Hengqin with the national train network. The 800-meter-long railway station is the second largest on the Chinese mainland.
And a new expressway linking Hengqin to the Hong Kong-Zhuhai-Macao Bridge is expected to be completed and put into use in the first half of next year.
The long-awaited Hong Kong-Zhuhai-Macao Bridge is expected to start traffic in the first half of this year, further expanding Hengqin's ties with Hong Kong and Macao.
Kerven Zhou, general manager of Guangdong Vimicro Electronics Corporation, said the administrative committee of Hengqin New Area has made great efforts to improve Hengqin's investment environment by introducing a series of preferential policies and helping local companies reduce their production costs in the past years.
"Land use is free for local companies in Hengqin in their first three years," he said.
Hengqin's GDP enjoyed an average annual growth of 39.2 percent in the past three years to hit 18.36 billion yuan in 2017, while its actual foreign investment during the same period grew at an annual average of 37.77 percent to $670 million last year.